Photos contributed by President Connie G.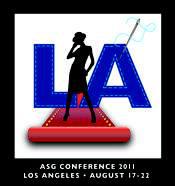 The American Sewing Guild National Conference was held in Los Angeles this year. Eleven of our Chicago chapter members attended and filled their days with learning new techniques and meeting old and new friends. Below are some pictures and tidbits that our President, Connie G. sent back.
Running In Stitches Neighborhood Group leader Celeste wrote about her ASG Conference experience on her blog. Be sure to take a peek at her jeans-to-skirt reconstruction with the pretty machine embroidery.
Sights and Thoughts From Connie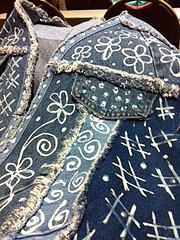 Gel-bleached jacket
Linda MacPhee Transforms Fabrics
In Linda MacPhee's class, a denim jacket was transformed with dishwasher gel bleach. Use a squeeze bottle to control your lines. Save your squeeze ketchup bottles and use that or buy the squeeze bottles at your local craft store.
Linda is also know for her "beggar fabric." But, beggar fabric is not easy to find. So, Linda made her own by cutting holes  in a top fabric and laundering. Then the fabric is backed with a dotted sheer fabric. Beggar fabric doesn't have to be perfect. In fact, it's a great way to use up scraps and remnants.
Embellishments
Think that twin-needle is just for heirloom sewing? Try this: thread up some colorful thread in that twin-needle and wander your fabric. You'll create a fun stipple that is perfect for quilting or embellishing a plain fabric.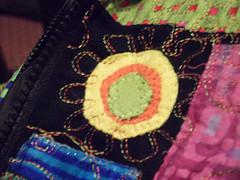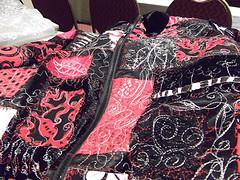 Use fleece as inserts to mimic bias to add texture to your piece. Since fleece doesn't fray, you don't need to worry about turning under tiny edges…just cut and sew. With fleece, you can also bend it any which way you desire without worrying too much about grains. Although, keep in mind that some fleece have a nap.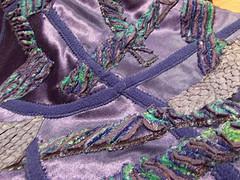 Fleece inserts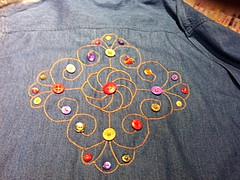 Button embellishments
Add dimension to your machine embroidery with buttons! Don't have an embroidery machine? Use your decorative stitches in rows with variegated thread. Or maybe even try hand embroidery.
Upcycle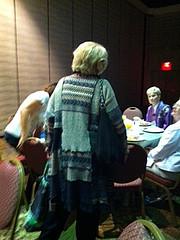 Do you have a bunch of sweaters that need a new life? You're either tired of them or they might not fit as well as they used to? Gather them all up and upcycle them into a new sweater. Don't worry about matching; the idea is to create a patchwork. Use your serger for quick construction…and leave the serged edges to the outside of the garment for additional texture and interest. Go ahead and raid your husband's and children's closets…because you're fabric shopping!
Tip: Try to use similar fiber content within one garment. If you mix an all-wool piece with swatches from a cotton/acrylic sweater, you may end up with a shrunken, felted panel at the next wash.
Learn From the Experts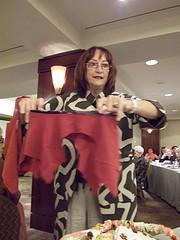 Sandra Betzina
One of the many advantages of the American Sewing Guild National Conference is having access to many wonderful teachers who are known thoughout the sewing industry. Some classes are hands-on, while others are lecture. Sandra Betzina and Linda MacPhee were just a two of the instructors that were at this year's ASG National Conference.