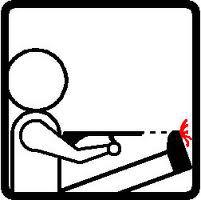 Woman  sues gun club:
The Idaho Mountain Express ( http://bit.ly/qyELEA ) reports Nan T. Bassett, of Salt Lake City, sued the owner of resort three weeks ago in Idaho's 5th District Court. Bassett claims inadequate instruction contributed to July 17, 2010 shooting accident at the Sun Valley Gun Club.


Bassett says she was loading a gun when it fired and hit the ground, spraying shrapnel and gravel onto her legs, which required medical attention.


According to her lawsuit, Bassett claims she informed the club she had previously never fired a gun and was given a brief demonstration but not properly instructed on how to safely handle a firearm.
This is what happens when you combine wanabe gunloon with firearm industry whose sole motivation is making money.