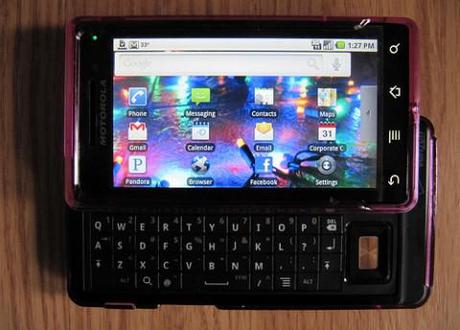 Motorola Android phone. Photo credit: Maggie Wolff, http://flic.kr/p/7kYJfy
The battle for the smartphone market just got serious: Google is set to acquire a major Android handset manufacturer.  In a surprise move, the internet giant announced its intention to purchase Motorola Mobility for $12.5 billion in cash. The deal is expected to provide a huge boost to Google's Android software, which is already the top smartphone operating system in the US and UK. "We are always looking for new ways to supercharge the Android ecosystem," wrote CEO Larry Page on the Google blog. But will Android phone makers such as Samsung and HTC be left out in the cold by the Motorola deal? And what does this mean for Google's 'patent war' with Apple?
Why Motorola Mobility? Over at Time's Techland blog, Jared Newman argued that the deal isn't all about Android, pointing out that Motorola Mobility also makes television set-top boxes: "It's not hard to imagine Motorola producing Google TV devices for sale directly to consumers as well," he wrote. What's more, Newman pointed to the so-called "patent wars": "Phone and tablet makers who use Google's operating system risk getting pounded by Apple and Microsoft on patent infringement grounds," he wrote, citing Apple's successful bid to block sales of Samsung's Galaxy Tab in Australia and Europe for patent infringement. Newman argued that the takeover of Motorola gives Google "the ammo to fight back". As Erik Schonfeld pointed out on TechCrunch, Google will gain "a porfolio of 17,000 patents and another 7000 patents pending globally, an area where it is currently a laggard".
Patently important. Indeed, the "patent wars" are leading to a surge in demand for experts in the intellectual property sphere, according to Bloomberg; companies such as Google, Apple and Microsoft are calling in the lawyers to help fight patent infringement claims and to acquire new patents.
Trouble ahead? Writing on the Wall Street Journal Deals blog, Shira Ovide suggested that the acquisition may not run smoothly, given that Google is already under government investigation in the US amid allegations of anti-competitive practices. Ovide pointed out that there is apparently an unusually large "reverse termination fee"  in the takeover agreement; this would compel Google to pay Motorola $2.5 billion should the deal fall through. "Looks like Motorola, like Groupon before it, is worried that Washington won't let Google close the deal," wrote Ovide.
"Motorola's total commitment to Android in mobile devices is one of many reasons that there is a natural fit between our two companies," wrote Google CEO Larry Page on the company blog.
Conflict of interest? Meanwhile, according to The Financial Times, the Motorola deal may cause concern to other Android phone makers: "Acquiring a handset manufacturer will also put Google into competition with many of the companies that rely on its Android operating system to power their own smartphones, including Samsung and HTC." Google CEO Larry Page was insistent that Motorola would be run as a separate entity: "This acquisition will not change our commitment to run Android as an open platform."However, Ken Auletta at the New Yorker News Desk blog argued that keeping conflicting interests separate would not be easy:  "The interests of Google shareholders who want their Motorola division to have exclusive mobile features will vie with the interests of the other mobile companies Google says it is serving." Nevertheless, Page's statement has apparently  mollified the main Android phone makers, as four of them have issued statements in praise of the Motorola deal. But Stephen Shankland at CNET was suspicious of this apparent show of selflessness, suggesting Google may have offered Samsung and pals "desirable patent protection terms" at the very least to prompt such support.