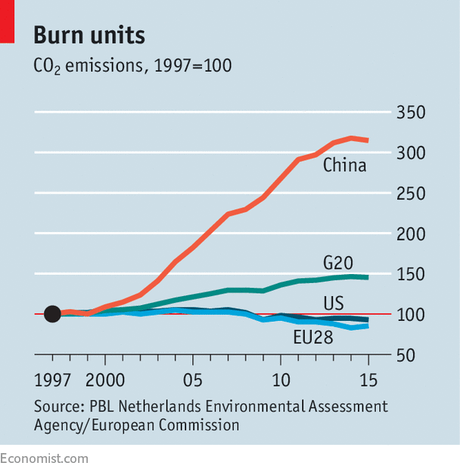 CAN Europe carry the Paris agreement on climate change forward now that America has left? That was one of the big questions as leaders of the world's largest economies gathered for the G20 meeting in Hamburg on July 7th and 8th. Donald Trump's promise that America will pull out has weakened the deal. Many fear that other countries' future pledges to cut greenhouse-gas emissions will be less ambitious without the world's second-largest polluter (after China) doing its share.
Yet America's departure has galvanised China, which promotes itself as a champion of the deal-and Europe, which thinks itself in the vanguard of greenery. If they remain staunch, reluctant converts such as Saudi Arabia and Turkey are more likely to stay the course. The G20 meeting was just beginning as The Economist went to press, but laying out the next steps for the agreement was on the agenda.
Europe has always played an outsized role in the climate-change debate. It was a...
The Economist: Europe