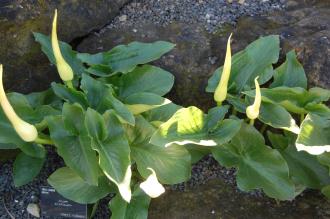 Arum creticum (16/03/2014, Kew Gardens, London)
Position: Full sun to partial shade
Flowering period: Spring
Soil: Moist, well drained
Eventual Height: 40cm
Eventual Spread: 40cm
Hardiness: 8a, 8b, 9a, 9b, 10a, 10b
Family: Araceae
Arum creticum is a deciduous herbaceous, perennial. Its mid green glossy leaves are simple, arrow shaped with entire margins, up to 30cm long. Its leaves appear in the winter and wither during the warm summer months. Its fragrant  cream/ yellow solitary flowers appear in spathes, are funnel shaped with a prominent yellow spadix and up to 13cm long. Its roots are fleshy rhizomes.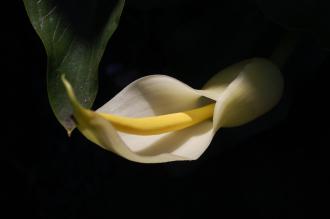 Arum creticum Flower (16/03/2014, Kew Gardens, London)
Arum creticum, commonly known as Cretan Arum, is native to Greece and Turkey, including Crete. In its native habitat it grows rocky slops and among scrubby vegetation.
The etymological root of the binomial name Arum is derived from Arom, a name given to Arum italicum by Theophrastus. Creticum is derived from the Latin meaning 'from Crete, Greece'.

The landscape architect may find Arum creticum useful as part of herbaceous planting scheme, although care should be taken as it may leave a hole in you scheme when the leaves die down during the summer. It prefers a sheltered position.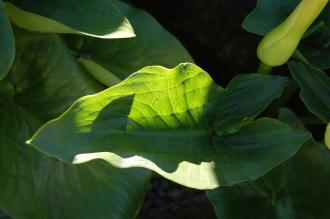 Arum creticum Leaf (16/03/2014, Kew Gardens, London)
Ecologically, Arum creticum is attractive to bees an pollinating insects.
Arum creticum prefers moist, fertile, well-drained soils. It tolerates most pH of soil.
Arum creticum requires little maintenance. Large clumps may be divided in spring.