This post may contain affiliate links. Please read my disclosure.
This delicious arugula salad with fresh corn, cherry tomatoes and goat cheese is simple and easy to make - ready in 10 minutes! Tossed with a homemade dressing, it is the perfect accompaniment to a picnic, bbq, potluck, or a light lunch.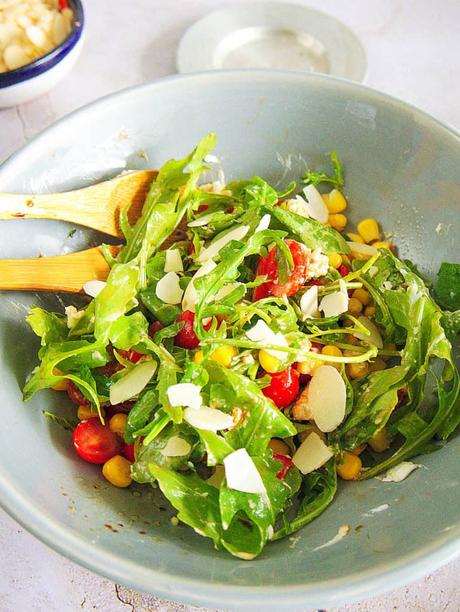 Summer is ending, but somehow summer produce is still in full bloom here in Seattle! Just the other day I dropped by my neighbor's house to pick up a bounty of cherry tomatoes that appeared in their garden out of nowhere! And what did I do with all those tomatoes? I threw them into this salad with peppery arugula, sweet corn and creamy goat cheese 🙂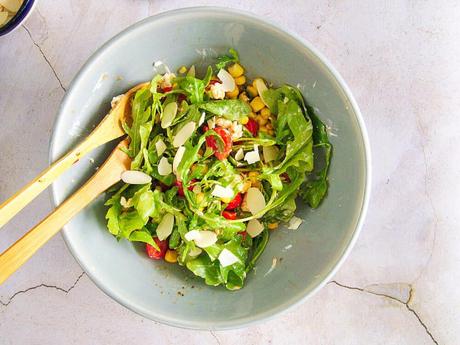 Simple side dishes are some of my favorites because they can add a nice pop of flavor to any meal, without a ton of effort. For this dish, I literally just threw all of the ingredients together in a salad bowl and made my favorite, easy, homemade salad dressing: olive oil, balsamic vinegar, salt, pepper, and fresh minced garlic (optional)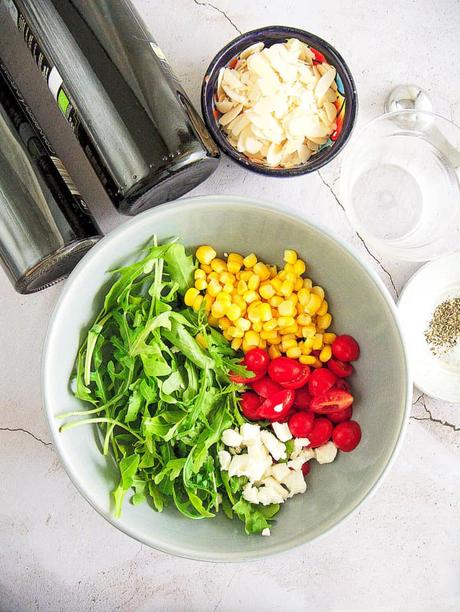 My kids really like salad (although my toddler is still a bit of a "lazy chewer" so he only gets through a few bites before he gets tired of chewing haha). We served this with my protein-packed pasta and some crusty whole grain bread on the side and it was the perfect weeknight dinner!
How to make this Arugula, Corn and Tomato Salad - Step by Step
Add your arugula, corn, tomatoes and goat cheese to a salad bowl and toss gently.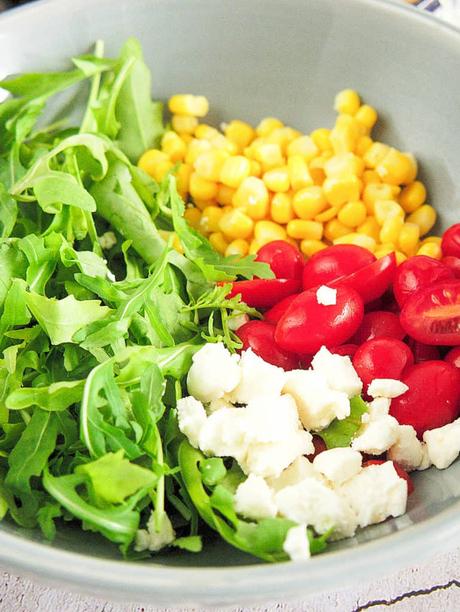 Make your salad dressing by combining 1 tbsp olive oil, 1-2 tsp balsamic vinegar, salt and pepper to taste. You can also add 1/2 tsp fresh minced garlic for even more flavor!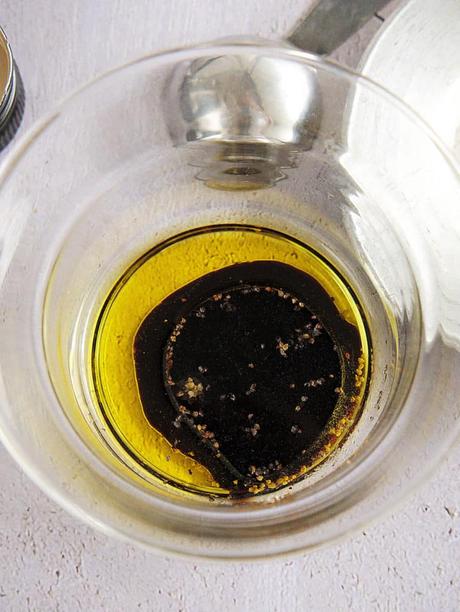 Whisk the salad dressing ingredients together until combined.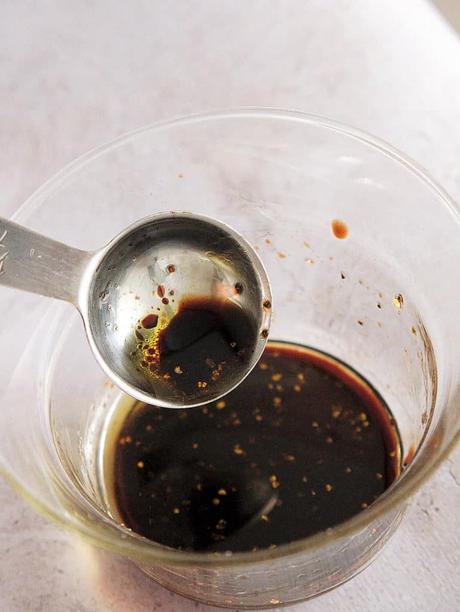 Toss the dressing with the salad ingredients, and then top with slivered toasted almonds.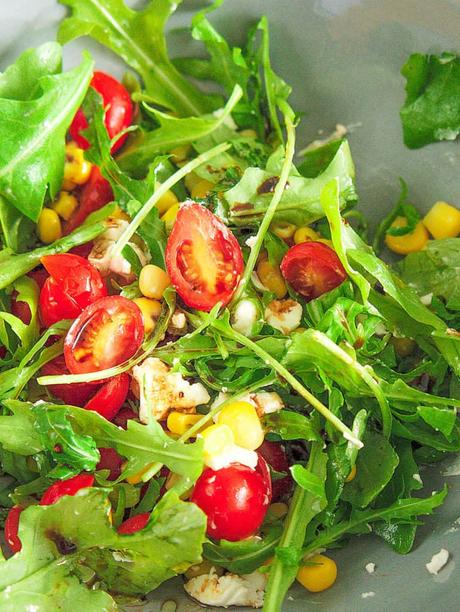 What are the health benefits of arugula?
Arugula is an amazing leafy green, part of the cruciferous vegetable family, and it makes the perfect base of this salad! It contains:
And it also helps to reduce inflammation in the body. Adding arugula to any meal will bring you a ton of nutrients in every tasty bite!
What to serve arugula salad with:
This Arugula, corn and tomato salad is a really versatile side dish, and will sit perfectly on a plate with most main courses. I love it as a pairing with Italian food: Pasta, Lasagna, Pizza are delicious entrees for this salad. I have even used it as a pizza topping! It's great to make a huge bowl of this for a table and let people help themselves.
What does arugula salad taste like?
Arugula has a bold, distinct, peppery flavor and can be ever so slightly bitter. It adds a great flavor to salads and works wonderfully with many ingredients.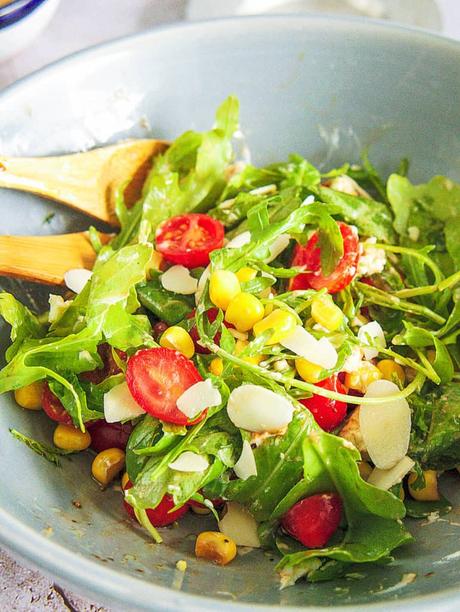 Top tips for making Arugula, Corn and Tomato Salad
You can prepare the salad ingredients and salad dressing separately and keep them in the fridge for several hours before tossing the salad and serving.
Toss the salad 5-10 minutes before serving so the arugula doesn't wilt before people have a chance to eat it!
You can use any kind of cheese you like: parmesan would work great in this salad, as would a sharp cheddar
I recommend fresh corn if you can find some, but if not you can also use frozen & thawed or canned corn as well.
To make this dish vegan, simply omit the goat cheese or use a vegan substitute
Feel free to add chopped fresh herbs to this salad! Fresh basil, marjoram, parsley, or even chives would all work well.
Be sure to try these other healthy, vegetarian salad recipes!
If you have tried this arugula, corn and tomato salad recipe, or any other recipe on my blog, then please rate it and let me know how it turned out in the comments below! You can also FOLLOW ME on , , and to see more delicious, healthy, family friendly food!
Arugula, Corn and Tomato Salad