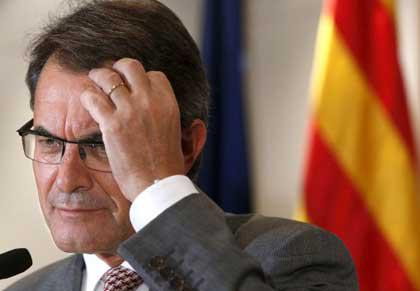 Over 4,000 people showed up in Plaza St Jaume in front of the Generalitat to greet Artur Mas on his return from his meeting with Mariano Rajoy in Madrid.
Mas was greeted with chants of "independencia" and was urged to be valiant in Catalonia's quest for independence.
Just hours after his morning meeting at La Moncloa with Mariano Rajoy, the Spanish Government said that it will not give any room for negotiations on the proposed Catalan fiscal pact, the Catalan National Assembly (ANC), organizer of the demonstration on 11th September called for an improvised concentration of nationalists in Plaza Sant Jaume.
CDC youths were also summoned by SMS at 19.00 in the same place for the reception of Artur Mas from Madrid.Although Mas arrived a little earlier from his trip, he was still greeted by a few hundred supporters who were shouting words of encouragement along with chants of "independence".
The square started to fill up with independence flags and 'senyeres' along with youths holding banners with slogans such as "Everyone with the President" or "Catalonia is not Spain", while the ANC deployed the same banner used on the march on 11th September, with the slogan "Catalonia, new state in Europe."
Artur Mas come out at 19.45 through the front door with his wife, Helena Rakosnik, at which point all could be heard in the square were the words: "Mas, be brave, Catalonia for independence."