In celebration of the new season of The Flash starting tonight, I've chosen Lord Mesa's "Tuesdays With Barry" illustration as our featured artwork of the week.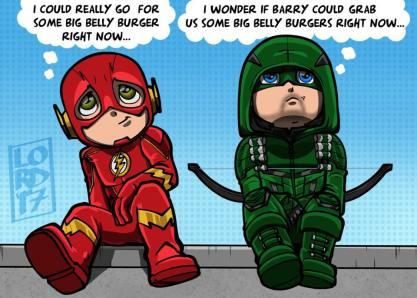 Not only do we have Barry Allen (Grant Gustin), but we also have Oliver Queen (Stephen Amell) in his Green Arrow suit sitting beside him. Both are thinking about eating some Big Belly Burger. It's a nod to how The Flash got its start on the DCTV universe. Six seasons back, we met a fresh-faced Barry on Arrow episodes The Scientist and Three Ghosts. Now, The Flash is a full-blown series on The CW, with four seasons under its belt and a fifth tonight at 8/7p on your local CW station.
This illustration made me nostalgic for those early seasons of both The Flash and Arrow, when both Barry and Oliver were still new to the superhero game. They won our hearts and our viewership, which is why I continue to watch both shows from beginning to end.
Will you be watching The Flash tonight? Tell us in the comments below!