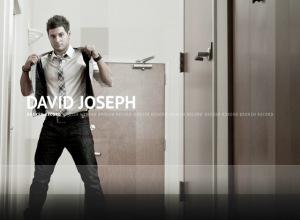 David Joseph's music career  jump started in 2004 when he was dubbed
"Connecticut's Next Rising Star" by pop station KC101's Radio star competition in his native state. Successively entered in the national contest, David was aired on radio stations across the country including New York's rooted mega-station Z100. This early encounter with the world of music provided tremendous exposure for the budding 19 year-old singer/songwriter and coupled with his inherent ambition, David  was only driven for more. By early 2009 David had seasoned his writing and vocal talents to debut his first solo album "Wherever I Go" which was recorded and produced at The Steele Factory in Brooklyn, NY. When he wasn't working in the studio, David  toured across New England and the Tri-State areas playing both acoustically and with his band. As his successes mounted and his fan base grew David continued to challenge himself musically. Later that year he was chosen from a pool of thousands of aspiring musicians nationwide, to appear on the  MTV reality series " P. Diddy's Starmaker" produced by TV mogul Mark Burnett. David was one of fourteen finalists in the competition. In the year since his MTV appearance and the release of Wherever I Go, David has grown immensely as an artist, seeming to
truly come into his own as a musician and performer.  When creating his current EP "Broken Record", David traveled from NY to LA, collaborating with talented professionals which included songwriters Daniel Bedingfield and Ben Romans (The Click Five). David has enveloped their influence to assemble a torrent of infectious lyrics and deliver a forceful new sound that resonates  in  buzzing new tracks like 'Broken Record" and "Get Down". Though his songs remain heart-twistingly relevant , David re charges the subtle and earnestly personal ballads of his previous work to re-enter  the music scene boasting a swanky new pop infused product echoing the panache of artists like Justin Timberlake, Bruno Mars, and Robin Thicke
CONTACTS:
www.davidjosephmusic.com
www.twitter.com/david_j_
www.facebook.com/davidjosephmusic
www.sonicbids.com/davidjoseph
www.myspace.com/davidjosephmusic
www.youtube.com/davidjosephchannel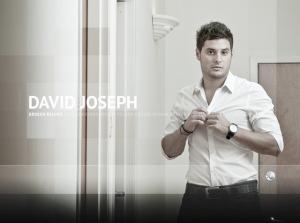 ~When did you first discover your creative talents?
I would say I found music to be an amazing release for me toward my later
part of high school. Growing up I was a very competitive athlete. But as I got
into music later on, it was such an amazing escape for me from everything I was used to. Music was always in my blood, my mother a singer and father a guitar player, I just never had tapped into it. But when I did it was just something I fell in love with and couldnt get enough of.
~Who are your musical influence
Artists who are also great songwriters? Ryan Tedder, Bruno Mars, Rob Thomas, Adam Levine. Whenever I hear something new they put out, it just drives
me to be better, write better songs. Its like damn I wish I wrote that, and that what I want other people to say about my songs.s?
~What projects do you have in the works?
Always in the studio collaborating, writing, producing. A new video
is in the works.This fall should be filled with some upcoming performances and releases.
~If I picked up your ipod or mp3 player who would be the top 3 artist I'd hear?
Maroon 5, Tinie Tempah, One Republic
How do you separate yourself from other artists?
I think what sets my apart from other artists is that I have learned
so much from my experiences in this industry. I have seen and done it all which makes me understand who I am as an artist and how I want to be perceived. I have been through the ups and downs, but in the end you can only be who you are and keep making music.Check out my new music video! http://tinyurl.com/628ussr
Download
the Broken Record EP on itunes now!!!
http://tinyurl.com/3fnmug9