LeRoy Neiman died Wednesday evening at New York-Presbyterian Hospital in Manhattan.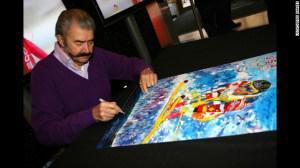 The 91-year-old artist painted everything from U.S. presidents to jazz musicians to the powerful animals of Africa… but he was best known for his bright, bold sketches of the sports world, capturing its motion and emotion in his brushstrokes.
He was named official artist of the Olympic Winter Games in Lake Placid and in Sarajevo as well as the Summer Olympics in Los Angeles. His powerful imagery of the boxing ring, including fight posters and program covers for the historic Muhammad Ali-Joe Frazier fights, earned him a spot in the International Boxing Hall of Fame in 2007. He was so closely identified with the world of boxing that actor/director Sylvester Stallone tapped Neiman to appear in four of his "Rocky" movies.
Neiman taught at the School of the Art Institute in Chicago for 10 years early in his career before gaining recognition as a contributing artist for Playboy in the 1950s.
Staying true to his style, Neiman's public persona was as almost as colorful as his artwork.
"I guess I created LeRoy Neiman," the artist once said, according to the biography on his website. "Nobody else told me how to do it. Well, I'm a believer in the theory that the artist is as important as his work."