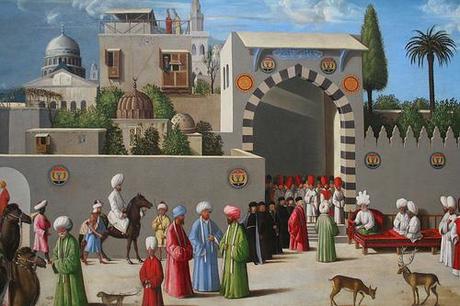 Artist: Anonymous Venetian (around Giovanni Bellini time)
Title: Reception of a delegation a Venetian Damascus in 1511
Medium:
Size:
This table shows the current orientalist painting said to be developed in Workshop 1 Bellini at the turn of XVIc and xv * siecles. II sen distinguish the precision accuracy of 1 and its details, that make up a historical panorama of Damascus in 1511 (date written on the wall between the legs of the horse, left). The south facade and the dome of brigine (destroyed in 1893 by a fire) of the Great Umayyad Mosque appear above. A Venetian delegation is presented to the Governor Mamelouk (nd'ib) of the city, sitting near dun portal apparat (iwdn), wearing a turban has six horns. The medallions decorating the walls of the coat of arms strikes Qa'it Bay, Sultan of Egypt and Syria.
Source: Anonyme venitien (Anonymous Venetian) (by Mals R)
~
Painting Commissions are Happily Accepted ~
 Layaway Plans are Available!
★Thank you for Visiting!★ 
Join Me on Facebook
~ Return to Portfolio ~ Return to Blog