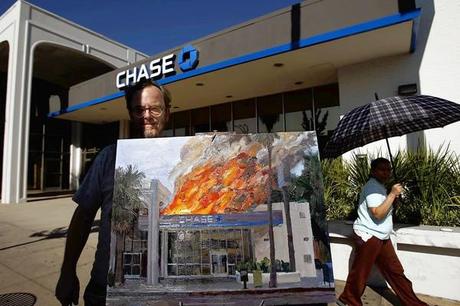 This is a story picked up by the Los Angeles Times. Artist Alex Schaefer usually paints portraits, cityscapes and lush landscapes, he acknowledges that the 'burning banks' series has overt political overtones.
As Schaefer put the finishing touches on his Van Nuys bank painting, passersby stopped to admire his work.
"I like it. It is social justice," said Travis Stobbe, a Van Nuys apartment building owner.
Albert Acevedo, a salesman from Oxnard, snapped a photo of the painting with his cellphone. "This is great. I'm going in and withdrawing all my money out now," he joked.
Gary Kishner, a spokesman for Chase Bank, said his institution isn't sure what to make of Schaefer's work.
"It's a situation we don't take lightly. Hopefully, this is not what his actions are. It's kind of scary — you don't know what other people are thinking. We have to look out for the safety of our customers and employees," he said.
Schaefer said he has been surprised by the hubbub his burning bank has caused.
"I've only had two experiences with the police in my life, and these were both of them," he said. "I have this feeling I'll get different treatment at airports from now on." [source L.A. TIMES]
Shaefer did his first 'burning banks' painting two months ago, a Burbank Chase branch, and he has a Bank of America painting in progress. The finished paintings will be displayed in a show called "Disaster Capitalism," scheduled for February at Inglewood's Beacon Arts Building.