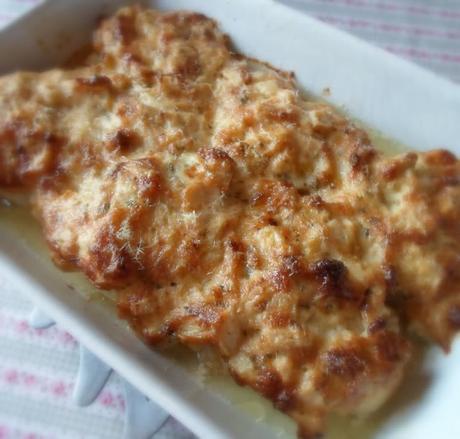 This is a delicious and simple to prepare entree that I probably haven't made in about two years now.  It was something that I used to cook up for the Mr quite often when I cooked at the Manor down South.  It was his favorite meal and he would often ask for it.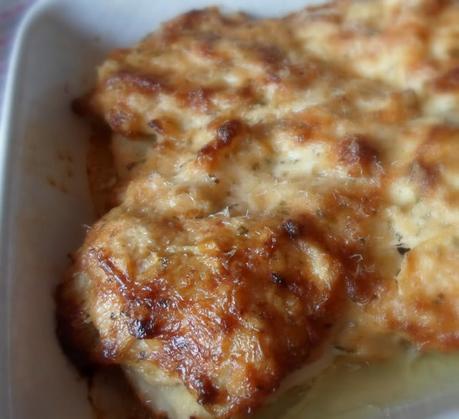 I never minded . . . I love it when people love to eat what I cook and making them happy . . . well, it makes me happy.  I was sitting here thinking yesterday, looking at a package of chicken breasts and then I thought to myself, in all the years I made this for the Mr . . . I never ever actually made it for us at home.  Time to rectify that!!!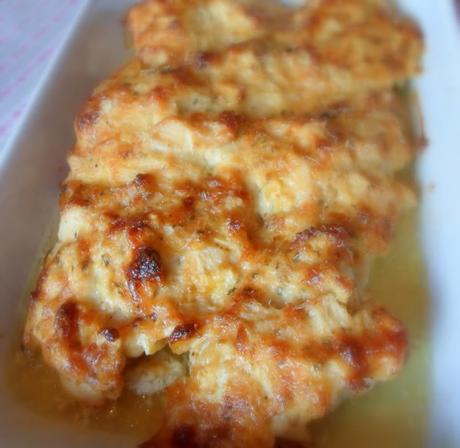 It's no surprise that it was one of his favorite suppers.  The chicken always turns out moist.  I'm not sure why that is . . . Perhaps it's those tangy marinated artichokes in the topping . . . could they be the secret tenderizing ingredient???  All that flavor . . . garlic and herbs . . . and the slight tang of the artichokes, meltingly tender . . .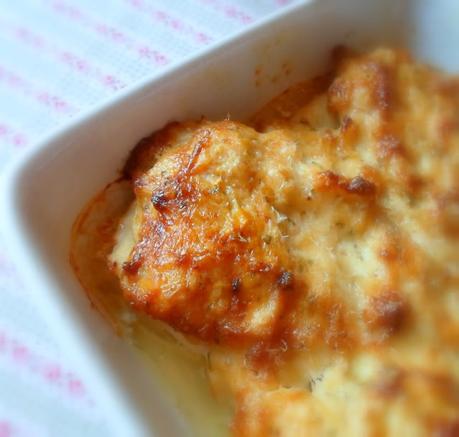 Maybe it's that creamy mayonnaise that you stir the artichokes into???  I like to use a good quality mayonnaise . . . Hellman's or a French Mayonnaise.  You can use low fat.  They both work quite well, although you may find the low fat one to be a bit sweeter.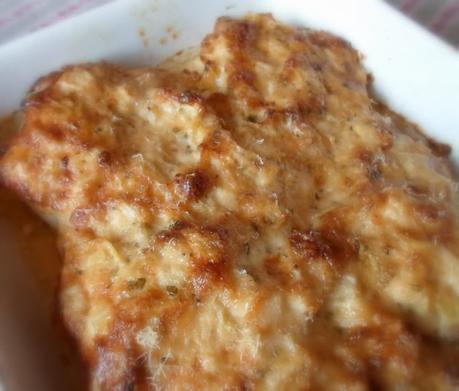 Do you think it might be all that delicious Parmesan cheese???   It adds a deliciously savoury and salty touch to the mix . . . going so very well with the artichokes and creamy mayonnaise . . . and the herbs . . . let's not forget the herbs . . . and the garlic too . . .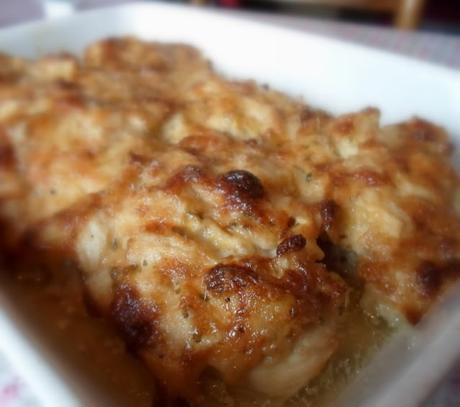 Know what I think???  I think it's

all

of them together . . . slathered over those tasty pieces of chicken.  That and the quick cooking time . . . the ease of preparation . . . not to mention that extra little bit of love that I throw into the mix.
That, I can't help you with folks.  It has to come from YOUR heart . . . but I'm sure that won't be a problem.
 
 "Cooking is at once child's play and adult joy. And cooking done with care is an act of love."
 ~Craig Clairborne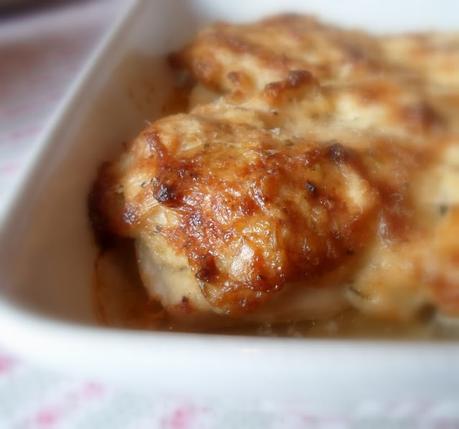 Bon Appetit!!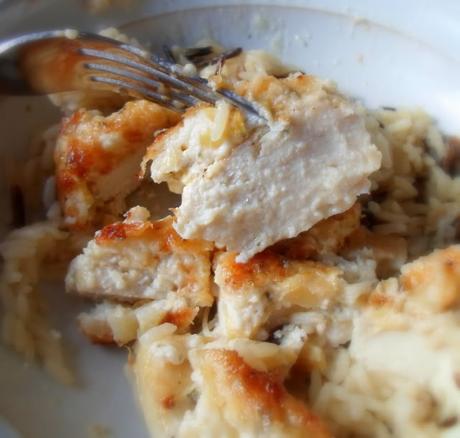 *Artichoke Chicken Bake*
Serves 4
Printable Recipe
This is quick, easy and delicious.  What more could you ask for.  You can never have too many recipes like this one in your repertoire.
1 280g jar of marinated artichoke hearts, drained and rinsed (about 1 cup of artichoke hearts)
135g of finely grated Parmesan Cheese (3/4 cup)
165g of good quality mayonnaise, can use low fat (3/4 cup)
1 clove of garlic, peeled and crushed
pinch of dried crushed chilies
1/2 tsp freeze dried basil
1/2 tsp freeze dried oregano
fine sea salt and freshly ground black pepper to taste
4 large boneless skinless chicken breasts, cut in half crosswise
Preheat the oven to 190*C/375*F/ gas mark 5.  Butter a shallow baking dish.  Place the chicken pieces into the baking dish.  Season each one generously with salt and black pepper.
Stir together the artichokes, mayonnaise, garlic, crushed chilies, basil, oregano and cheese, mixing well together.  Spread this mixture over top of the chicken pieces, covering them evenly.
Bake for 30 to 35 minutes, uncovered, until the topping is golden brown and the chicken is cooked through.  The juices should run clear.  (Depending on the thickness of your chicken breasts it may not take this long.)