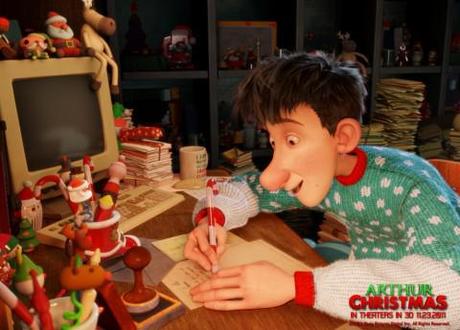 Arthur Christmas.
It's the night before Christmas and a little girl might not get her present. It falls to Arthur, Father Christmas' ungainly but sentimental youngest son (James McAvoy), and his retired, ex-Stanta granddad (imaginatively called Grandsanta and voiced by Bill Nighy), to see that this doesn't happen. En route, the dysfunctional duo narrowly escape from wild African beasts, are mistaken for aliens and are attacked by missiles. Meanwhile the film answers those perennial questions: Just how does Santa deliver all those presents in one night? And how does he find out whether I've really been good or not?
Arthur Christmas is a film with incredible credentials: Produced by Aardman Studios (the genius' behind Wallace & Gromit), the film has a glittering all-star cast, including Jim Broadbent, Hugh Laurie and Imelda Staunton, that parents will surely appreicate. For the kids, there's an abundance of child-pleasing tech, the title track is by none other than Justin Bieber and the animated spectacle is to be enjoyed in 3D. And even though it's a clichéd story of an unlikely hero on a perilous adventure, the consensus is that it's a film that all, but especially parents, will enjoy.
Something different! Michael Rechtshaffen, reviewing for the Hollywood Reporter, insisted that even if the film sounds conventional, the "route" it chooses to take is "anything but predictable". He appreciated the "mission impossible" twist, complete with "elves schooled in covert ops and a hi-tech sleigh equipped with stealth cloaking technology".
Parent friendly. Neil Genzlinger at the New York Times agreed that the tale "hold[s] its own against the rest of the genre". What stood out for him are the "sly jokes for grown ups" offered by Peter Baynham's and Sarah Smith's script; one in particular, "a great recurring gag that anyone who uses a GPS will love" makes clear that the film was aimed as much at parents as it was their kids. And there is a lot for parents here: Christmas as a corporate enterprise, an ambitious heir-apparent vying for the top job and the too-tragic-to-contemplate idea that Father Christmases are mortal. Indeed, Genzlinger's only criticism is that the "unnecessarily busy" and "cluttered" plot makes it a film difficult for kids to follow.
Festive Cheer! Olly Richards at Empire applauded the film's "uniquely, intelligently silly" strain of humor and particularly enjoyed the ending, which "stuffs in all the Christmas jollity… core to a Christmas movie but without the overdone nonsense that makes you want to go to the nearest shopping center and kick over a nativity scene". Richards predicted the film could "very well come to be a Christmas classic."
Bah Humbug! Not everyone caught the festive cheer. Kyle Smith , for the New York Post, was unimpressed by the predictably "frantic, unfunny gags" of a "kiddie" film.