The Greater Ithaca Art Trail has recently started having open studios on First Saturdays, following the First Friday Gallery Night from 10 a.m. to 2 p.m.  Not all the artists on the trail are open on those days, but many are, and you can find out which ones are by going to the Art Trail website. 
I have rejoined the trail after being off a year when my husband was very sick.  I'm still in the process of getting my studio ready for visitors, but should have that finished by next week when a group of women from the AAUW (American Association of University Women) is visiting my studio.
It's always a challenge getting my studio ready.  My work mode is very different from show mode, yet I try to give a sense of where and how I work as well.  And then there's always just plain dirt, which doesn't bother me while I'm working here! 
I'll be featuring many of our art trail artists on this blog on a regular basis, whether they are abstract artists or not.  One of the great things about living and working in the Ithaca area is the disproportionate number of talented artists, writers and musicians we have here.
Werner Sun, for example, is a physicist at Cornell as well as an artist.  He is always experimenting and developing his art in exciting directions, often in collaboration with other artists and scientists.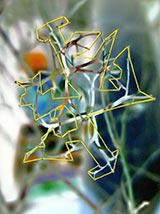 The secrets of Trees, 8" x 11" ink on paper, thread, by Werner Sun.