No matter what artistic discipline you embrace, you will be plagued by the question…"What inspired you?"
I often wonder what was the genesis of this question. No doubt it's a hand-me-down from some early art critic or art aficionado who was looking for a clever way to start dialogue with and an artist. After all, what inspired this piece of art is a pretty open ended question and certainly can evoke a lot of emotion from the creator. Try it on yourself…make a trip around your studio or gallery and ask yourself…what inspired me to paint or create this piece of work? At first you will answer yourself with some pretty flippant discourse, but the deeper you dig the answers may become more revealing and could ultimately create an entire change in effort as to how you approach future artistic endeavors.
I for one… love the answer, nothing inspired me. In fact, if an artist says "It is what it is and it stands on its own. Then I know I'm in the presence of natural creative greatness. Given to the fact that you may, at your own choosing assign it a inspiration should be left up to the witness. The one who approaches a painting burdened with every possible preconceived cliche may derive satisfaction from their first impression to their last interpretation.
Gallery owners, most art critics, art commentators and generally lovers of art always ask "What inspired this piece of art?" When being honest they will actually ask the artist and embrace what he has to say. Daringly if the artist is bold enough to say "I was inspired by nothing. The inspiration I give to the patron or better yet whoever is willing to pay me for the work." But more often than not, they don't want to actually know, especially if the answer is one that doesn't fit into the formula. All too often the critic wants to mingle their own interpretation into the creative process. It's almost as if their opinion has more validity than the truth.
Is it really true that a piece of art can be created without inspiration? I fervently believe this to be true. If you study the work of abstract artists you will often find that they define a particular piece of art as "untitled". Or after the piece of art is completed then they will name it. More often than not, esoterically or sometimes a friend or a loved one will say to them "That reminds me of…"
Does anyone really think that William Baziotes named Cyclops before he actually painted it? My guess is once it was completed he said or someone said to him " It looks like one-eyed, let's call it cyclops."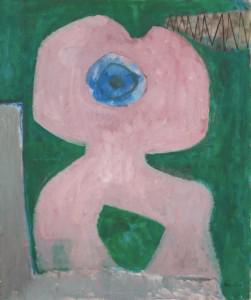 William Baziotes - Cyclops - The Art Institute of Chicago
Mark Tobey's Universal City (one of my favorite pieces of work) looks like it could be a city. A quote of Mark Tobey's, " I have sought a unified world in my work and use a moveable vortex to achieve it." A brilliant justification for a piece of art that was created before he had contextual answer to the question…"What inspires you?"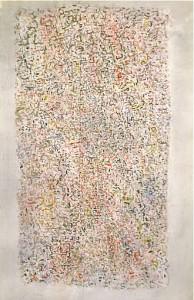 Mark Tobey - Universal City - Seattle Art Museum
An then there's Mark Rothko. Kind of a call it what you see…Ochre and Red on Red. Much of his paintings are best described by calling out the colors…so he did.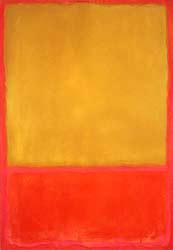 Rothko -Ochre and Red on Red
Abstract Painting No.34 by Ad Reinhardt…is there any better way to describe a canvas that is pretty monochromatic? I would post this painting but it so subtle you will really need to find it in a book or better yet…head to the Washington Gallery in D.C.  to see it in person.
When I think of inspiration I picture an artist walking up to a tree with palette and canvas and doing his or her darndest to paint that tree. First they try to paint an exact replica, then as they become more daring they move towards the impressionistic view. And some would argue if they can't render well then they turn it into a full blown abstract painting.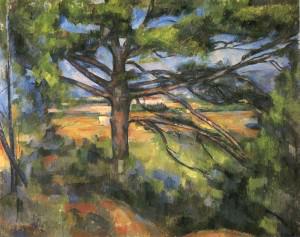 Paul Cezanne - Large Pine & Red Earth - The Hermitage
Piet Mondrian Gray Tree 1911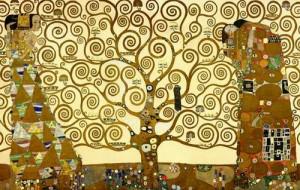 Tree of Life by Gustav Klimt
I'm pretty sure Klimt had a preconceived notion and planned this painting of The Tree of Life.
Inspiration for inspiration sake…we are all victims of our environment and too many artists are constantly on the make for inspiration. I suggest look for the divine inspiration which is something that percolates within your own artistic soul. You can't copy nature forever. Or worse yet, swipe the inspiration from the works of other artists (like Picasso often did).
You can do this…empty your brain…approach that big (the bigger the better) empty canvas. Do not think of any person, place or thing..or other artists you may know. The biggest decision you need to make is what color to put on the brush. After that let the work evolve. I'm not suggesting automatism here. With a little practice you will connect and you will be amazed at what comes forth. Then when someone asks what inspired you to create this painting, you can say with confidence…nothing. I guess it was there all along, it just needed me to open up the window and let it in.
This is a piece of work I painted with absolutely no preconceived notion…however when it was completed it needed a name. I looked at it, my wife looked at it, my daughter looked at it…and I guess because we live in a forest we connected the painting and gave it the title Under the Canopy.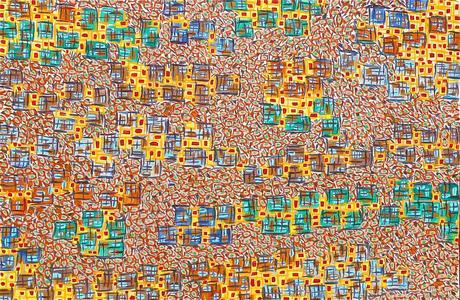 Under the Canopy - Rod Jones Artist- Oil on Canvas -36" w x 24" h
Here's an example of what you can do with one color Delft Blue and of course the painting is entitled Delft Blue. This is a relatively simple painting, follows my artistic style (RAP) Receptive Abstract Patternism, no inspiration from any real source.
Delft Blue - Rod Jones Artist- Oil on Canvas -20"w x 16" h
Your art can inspire other people in so many ways. But you do not need to be inspired to paint. I sometimes think artists use that as an excuse not to commit…I'm just not inspired, the muse is not with me…whatever. The process is all that is needed and the energy to present yourself to that blank canvas. The emptier your conscious mind is the better your unconscious mind will perform. We can all live our creative lives more inspired once we embrace this notion.