The American Art Museum will host its second Art-o-mat® swap meet on Saturday, July 26 in collaboration with Artists in Cellophane. Artists will gather in our Luce Foundation Center from all over the country for an afternoon of meet and greets, artist demoes, and artpak making. To appreciate an Art-o-mat®, read Eye Level's blog post from 2011, when the Luce Center received its own Art-o-mat®.
Participating artist Rachel Ourada recently took a break from getting ready for the trip to answer a few questions about her involvement with Art-o-mat®.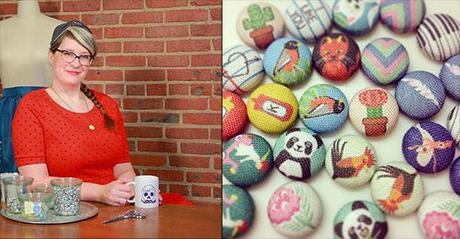 Left: Rachel Ourada in her studio. Photo courtesy of the artist. Right: Ourada's fabric buttons.
Eye Level: How long have you been an Art-o-mat® artist, and how did you become a participant and contributor?
Rachel Ourada: I've been an Art-o-mat® artist since 2012. My neighbor, Scott Blake, is an artist and fills the machines in Omaha, Nebraska. We met in 2012 when the city tore up a main street in our neighborhood. Thanks to the lack of traffic, we met and started talking. Scott helped me come up with my first Art-o-mat® prototype.
EL: What is involved from the beginning stages to the final stages of creating art for the Art-o-mat®?
RO: I work in several media on a regular basis, and this is reflected in my Art-o-mat® designs. My primary medium is the fabric button. I design my own fabric to create unique pieces of jewelry and accessories. For Art-o-mat®, I offer a menagerie of animal face earrings and colorful bike hairpins. Making fabric buttons takes lots of cutting, patience, and teeny tiny parts. I start every design digitally, and those designs are then transferred to fabric. It's important to me that I use only my custom fabric. It is what sets me apart, and it allows me to create unusual designs that haven't been seen before. I also do small runs of hand sculpted thumbs and tentacles. I like working with Sculpey. I love working with the bright colors, some of which glow in the dark. I accent these tiny sculptures with enamel paint and bits of chain. They aren't functional; they are partially decorative and completely weird.
My background is in printmaking and making reproductions of original artwork. I have a handful of illustrations that I adhere to painted wooden blocks. I enjoy drawing skulls, and I have a few unique skull illustrations that I use for Art-o-mat®. When I make anything, Art-o-mat® or otherwise, my main objective is to create something unusual that has never been done before. My goal is to put a little bit of my personality into something someone will enjoy.
EL: What do you think of the Art-o-mat® machine as a creative outlet and option for artists such as yourself?
RO: I love working with Art-o-mat®. It has been a great venue for my work. I've received emails from people all over the country who got my art when they pulled the lever. I don't know of anything else an artist could participate in that would give them the positive national exposure that I've received as an Art-o-mat artist. By being limited by the small size, it has really pushed me to think on a detailed level. You have a finite size (2 1/8 x 3 1/4 x 7/8 in.) to fill with creativity. You have the packaging and the placard to introduce yourself and your artwork. It's a great opportunity to work inside and outside the box, literally and figuratively, at the same time. I always encourage other artists I meet to participate in Art-o-mat®. You get at least as much back as you put in. There aren't many opportunities for artists that can promise the same. For customers, the experience can open them up to purchasing art and interacting with artists. Buying handmade things directly from an artist can be intimidating for some. What's less threatening than a vending machine?
EL: Why should visitors come to our Art-o-mat® Swap Meet on Saturday?
RO: How could you miss out on such a great opportunity to meet in person so many interesting artists? Nothing compares to finding a great piece of art and meeting the person behind it.
EL: Are you looking forward to meeting and swapping art with any particular Art-o-mat® artists?
RO: This is the first time that I've ever participated in an Art-o-mat® event. I'm looking forward to meeting as many Art-o-mat artists as I possibly can. I can't wait to see what artwork I can add to my Art-o-mat® collection!
Join us at 1 p.m. on Saturday, July 26 at American Art's Luce Center for an afternoon of fun!