If you were an artist living in New York in the latter part of the twentieth century and early years of the twenty first, you knew the names Herbert and Dorothy Vogel. They were not rich people. They lived in a one bedroom apartment with their cats and turtles… and thousands of works of art by major American artists piled floor to ceiling.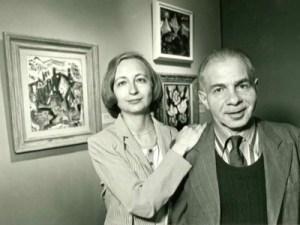 Herb and Dorothy Vogel
Herb was a postal worker who loved art. He met his wife, Dorothy, while visiting the National Gallery in Washington, DC in 1962. They built their art collection by purchasing smaller works, often on a monthly payment plan, from younger artists who had not yet gained fame. Their biggest rule for purchase, beside the work being something they took a liking to, was that it would fit in a taxi cab to take it home.
In the early 1990s. after long negotiations, the Vogels left much of their collection to the National Gallery, where they met.
"We wanted to do something for the nation. The National Gallery doesn't sell works they acquire. They'll keep the collection together. And they don't charge admission."
They lived simply, eating at neighborhood diners and Chinese restaurants.When they bought art hey usually paid cash or worked out novel arrangements with artists.
"When they came to the studio, they always came with a wad of cash. You'd always wind up selling something for a fraction of what it was worth."

- artist Chuck Close
The Vogels were featured on "60 Minutes" and in a 2008 documentary film by Megumi Sasaki called "Herb and Dorothy." Their names have been carved in the wall at the entrance to the National Gallery's West Building alongside those of other major benefactors.
Herb died Sunday, at age 89, at a nursing home in New York City. His wife survives.