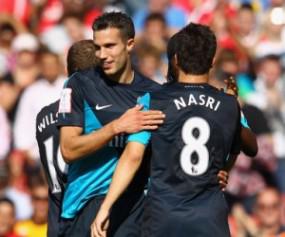 Where will English Premier League flops Arsenal rank during the upcoming 2011/2012 season?
Arsenal have been subject to criticism for too long now. During the transfer window, Arsene Wenger gets under pressure from anxious fans who cry out for top signings. During the football season, the fans' excitement turns into disappointed as the Gunners miss genuine chances to claim cup glory.
This summer, Wenger has somehow promised to turn the tables around for Arsenal. With Gervinho's arrival, some are talking about new hopes at the Emirates. However, Saturday's draw against Boca Juniors in a friendly match has raised doubts again over the Gunners' strength and maturity. Goal scorer Aaron Ramsey gave his opinion about the match while talking to ESPN. The Welsh midfielder
"We got a 2-0 lead then we conceded two sloppy goals from our point of view. We're still in pre-season so it was a good workout for us all but we just have to stop conceding sloppy goals like we did today."
Meanwhile, transfer issues surrounding Cesc Fabregas are heating up. The Spaniard was left out from the roster and coach Arsene Wenger said before the match to reporters:
"He won't be involved as he's not settled with us at the moment and is coming back from an injury. All the speculation around his position must be sorted out soon. But there is only one deadline, on August 31. The other deadline is for us to get everybody focused, the players who are really committed to the club."
Arsenal will open their 2011/2012 English Premier League campaign against Newcastle United on August 13 at St James' Park.