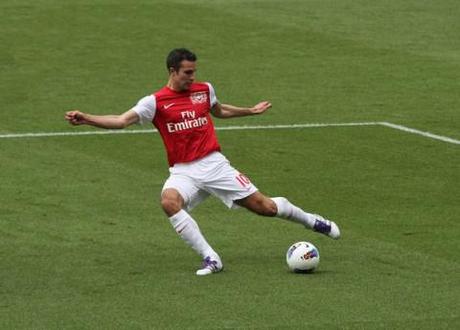 Arsenal striker Robin van Persie. Photo credit: Ronnie Macdonald
Arsenal's sensational 5-2 come-from-behind victory over arch rivals Tottenham in the February 26 north London derby has restored some of Arsenal fan's faltering faith in embattled manager Arsene Wenger and got the sports commentariat wondering if the gunners can now push on and qualify for the Champions' League. But, beyond finishing fourth or better this season, there is a growing consensus that manager Arsene Wenger's quest to end Arsenal's seven-year wait for a trophy is now almost entirely dependent on whether talismanic captain Robin van Persie can be persuaded to stay this summer.
Arsenal trailed by two goals in the derby before smashing five goals past a shell-shocked Tottenham team. The result returned Arsenal to fourth place in the table and means they are now only seven points behind Tottenham. Under-fire Arsenal players Tomas Rosicky and Theo Walcott starred in the comeback but, once again, it was Dutchman van Persie who shone brightest.
Van Persie has scored 29 times in 35 game this season. Remarkably, 12 of his goals have been scored with his weaker right leg, or "chocolate leg" as he famously once referred to it.
Arsenal's elegant (and indispensible) captain. Henry Winter of The Telegraph said that van Persie is "is the serial savior of Arsenal's fortunes, the man whose future must be tied fast to the club if the clouds are to lift fully over the Emirates … Rarely has a player been so fundamentally important to the prosperity of Arsenal Football Club. Even the magnificent Thierry Henry flourished most in an age of Invincible talent. Even Ian Wright enjoyed the service of a Dennis Bergkamp or Alan Smith." "Van Persie remains head and shoulders above the dressing-room throng. For all the understandable euphoria swirling around the Emirates by the final whistle, the reality remains that Arsenal are heavily, almost dangerously, reliant on their elegant captain," insisted Winter. "He is a goal machine, a points machine and one shudders to think where the aristocrats of Arsenal would be in the league without him. Among the middle-classes," suggested Winter, who said the payer, whose whose contract expires in 2013, "must be kept at all costs." For Van Persie to stay, Winter insisted, Arsenal's board must reassure him by signings "heavyweight reinforcements." "The alternative is a return to the edge of the abyss," warned Winter.
"When I look at a football pitch I suppose, yes, I see it as my canvas," van Persie once said. "I see solutions, possibilities, the space to express myself." Both van Persie's parents are artists.
Break the bank to sign him up. Matt Dickinson of The Times (£) said that, "take away that guy from Barcelona — OK, and that other bloke from Real Madrid — and it is very doubtful that any footballer in the world is playing better than Robin van Persie." Dickinson argued that "the third-best footballer on the planet" is so "talismanic" to Arsenal that "it feels like the whole Wenger project hangs by the answer that he will give at the end of the season. Sunday's astonishing 5-2 victory over Tottenham Hotspur only deepened the sense of reliance on Robin." Dickinson noted that no votes will be cast for the Footballer of the Year for some weeks yet, "but, for all the excellence of Joe Hart, David Silva and Yaya Touré at Manchester City, Van Persie has to be the front-runner by a distance." Dickinson urged Arsenal to do whatever it takes in the summer to retain van Persie's services: "A board that is developing a reputation for a sloppy approach to negotiations, letting contracts run out with no sense of urgency, must offer £150,000 a week without worrying what the other players think."