Sharing a table with Chef Subrata Debnath is like opening an encyclopedia on Bengali food. So passionate is he about this cuisine that it was only natural for him to curate a festival on the aromas of Bengal. With assistance from visiting Chef Rajib from Taj Bengal, Kolkata, Chef Subrata is proud to showcase authentic Bengali fare as cooked in traditional homes.
Amidst conversations about the traditional style of making kasundi mustard and elaborating about 'radhuni', an indigenous spice that looks like ajwain but has a mellow sweetness to it, Chef shares a platter of appetisers. While the melt-in-the-mouth mutton cutlet, or mutton chop as it is popularly known as in Kolkata, is perfectly spiced and marinaded, the rui maachher patishapta is Chef's twist to the traditional patishapta that is served as dessert. Essentially a crepe, here it is stuffed with minced rohu fish, green chilli and homemade ghee. Both the appetisers pair beautifully with freshly prepared kasundi mustard as Chef Subrata is vehemently against the bottled kasundi that one finds in grocery stores. The rest of the meal is as flavourful owing to the preparations that are made from scratch with carefully selected ingredients.
Although the festival features an a la carte menu there is an option of having a selection in a thali-style as well. Our beautiful thali comes with a delicious sprinkled with chef's special masala which is incredibly delicious and pairs so well with the loochi. Then there's chholar dal kadoli pushpo ghonto (young banana blossoms cooked with diced potato and coconut), palongshaager chorchori (spinach with pumpkin), Dhakai mangsho kosha (meat cooked with a grandmother's recipe from Bangladesh) and kacha lanka bata murgi (chicken cooked with green chilli and onion). Bhetki paturi is deliciously steamed beckti that is marinated with stone ground mustard. It is neatly wrapped and steamed in a banana leaf that is roasted before the fish is wrapped into it. It is these kind of details of ingredients and techniques that Chef Subrata shares throughout the meal that makes everything even more delectable.He also graciously shared recipes of daab chingri and Dhakai mangsho kosha that I have shared below this article. And if you're not afraid of a bony fish, I highly recommend the steamed hilsa fish ( eilish bhapey) that is rich with a beautiful mustard flavour and left me licking my fingers.
A traditional meal like this is suitably rounded off with a choice of traditional desserts including patishapta(sweet crepe with a fantastic filling of coconut and reduced milk), gurer paayesh(Gobindo bhog rice slow cooked with nolen gur) and the quintessential Bengali mishi doi.
, Taj City Centre Gurugram, Sector 44, Gurugram, Haryana.
Lunch 12.30pm to 3pm; Dinner 7pm to 10.30pm.
prawn curry steamed in young coconut shell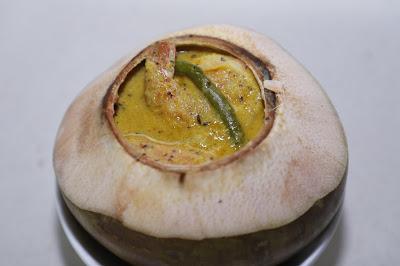 250 gm Shrimps, de-shelled, de-veined
A pinch of Turmeric powder
~~~~~~~~~~~~~~~~~~~~~~~~~~~~~~~~~~~~~~~~~~~~~~~~~~~~~~
grandmother's recipe from Bangladesh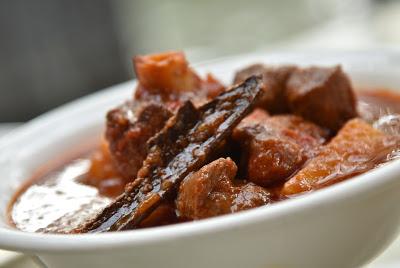 3 Tbsp Ginger Garlic paste
1 each Green and Black Cardamom