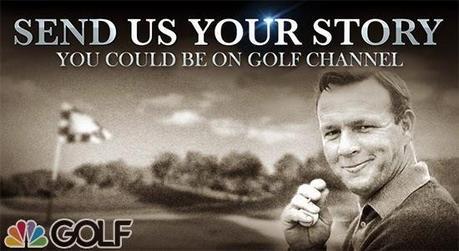 Dear Arnie Invites Arnold Palmer Fans to Share Personal Stories at GolfChannel.com/DearArnie
ORLANDO, Fla. (May 28, 2014) – Following overwhelming fan response to Arnie, Golf Channel's critically acclaimed three-part series, which trended on Twitter all three nights of its April premiere and became the most-watched original production in network history, Golf Channel is inviting fans of Arnold Palmer to submit videos capturing their personal stories via a dedicated page on GolfChannel.com. Stories submitted will be used in a fourth installment of Arnie, highlighted by some of the most compelling user-generating content from Palmer's fans, affectionately known as "Arnie's Army."
"The outpouring of admiration for Mr. Palmer after the premiere of Arnie, through emails, social media and especially boxes of hand-written letters, sparked the idea behind this project," said Mike McCarley, president of Golf Channel. "Bringing the stories to life for the rest of the world to enjoy, Dear Arnie will take on the voice of 'Arnie's Army' and capture some of the most compelling stories directly from Arnie's fans."
The Dear Arnie submission website, www.GolfChannel.com/DearArnie has detailed instructions for submissions, tips on how to effectively shoot a video and an e-mail address for questions or technical assistance. Fans are encouraged to include great visuals in the video submissions, including mementos, letters, photos, personal video or even autographed cans of Pennzoil. Deadline for submissions is December 31, 2014.
Golf Channel Films is tasked with producing high-quality documentary films through riveting storytelling about some of the most iconic characters in the game of golf. The first project completed by Golf Channel Films was the critically acclaimed Arnie, which was described as "part love letter to its namesake and part thank-you note from all of us" by Sports Illustrated, "tremendous" by CBS Sports, and an "ambitious undertaking" by Newsday. The Golf Channel Films team is currently completing Payne, which profiles the colorful Payne Stewart. Timed to the 15-year anniversary of Stewart's U.S. Open win at Pinehurst, Payne premieres Sunday, June 8 at 5 p.m. ET on NBC and Monday, June 9 at 10 p.m. ET on Golf Channel, leading into the week of the 2014 U.S. Open Championship.
ABOUT GOLF CHANNEL
Golf Channel is a multimedia, golf entertainment and services company based in Orlando, Fla. Golf Channel, co-founded by Arnold Palmer in 1995 and now part of the NBC Sports Group, is available in more than 120 million homes and 83 countries worldwide. Exclusive partnerships with the world's top tours allow Golf Channel to feature more live golf coverage than all other networks combined, as well as a programming schedule distinguished by golf's highest-quality news, instruction and original programming. Golf Channel's digital platforms, led by GolfChannel.com, are the leading golf destinations on the Internet, delivering unmatched coverage of the world of golf, as well as services that connect the world to golf. Fans are able to enjoy 24/7 live streaming of Golf Channel content through GolfChannel.com and Golf Channel's mobile application, Golf Live Extra. Golf Channel programming also is available via SiriusXM's PGA TOUR Radio.