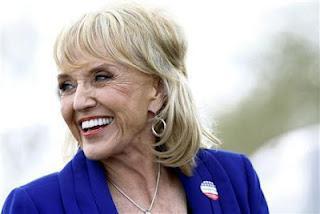 Reuters reports
For the second consecutive year, Brewer rejected the measure backed by gun rights advocates to allow guns in public buildings, except where security personnel were posted at the entrances and metal detectors or X-ray machines were present.
Under current Arizona law, state authorities can ban guns from being carried into public buildings such as libraries, senior centers and city halls by posting a sign at their entrances.
The Republican governor said a "more thorough and collaborative discussion" is needed before such legislation could be signed into law.
"The decision to permit or prohibit guns in these extremely sensitive locations ... should be cooperatively reached and supported by a large coalition of stakeholders," said Brewer, in her veto message.
For me she's a bit of an enigma. Every once in a while she surprises.
What's your opinion? Please leave a comment.