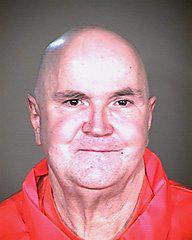 ABC reports on a case which could possibly make some less-committed anti-death-penalty folks question their beliefs. Not me, though.  I figure people who do stuff like this are mentally ill and should not be eligible for capital punishment.  What do you think?
The execution happened just a minute's drive away from the Blue Mist Motel, where on Jan. 13, 1984, he beat, stabbed and suffocated his adoptive mother, Roberta Moormann, 74, who sexually abused him into adulthood, according to defense lawyers.
He cut off her head, legs and arms, halved her torso, and flushed all her fingers down the toilet. He then went to various businesses asking if he could dispose of spoiled meat and animal guts before he threw most of her remains in trash bins and sewers throughout the dusty town, about 60 miles southeast of Phoenix.
Moormann was captured after he asked a corrections employee to dispose of what he said were dog bones.
He killed the woman while on a three-day "compassionate furlough" from the prison in Florence, where he was serving nine years to life for kidnapping and molesting an 8-year-old girl in 1972.