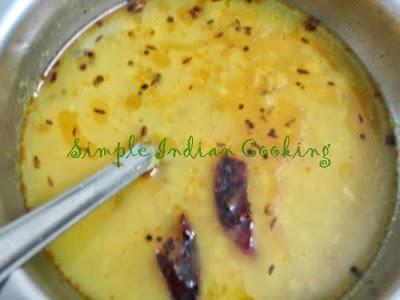 Arhar Dal
The recipe that I am sharing today is a simple arhar dal that is cooked daily in my kitchen you can enjoy this with rice and  fried vegetables.  Dal is very simple to make and tastes delicious if you add a right  tamper or tarka to it. It is a common dish that is made in our kitchen on daily basic. We Indians eat a well balanced meal. We have vegetables for vitamins, pulses for protein for example. We have different varieties of pulses or lentils available in India and their cooking time varies. I always use a pressure cooker as it saves time and the dal is fully cooked. Arhar dal is very nutritive as it is full of protein. Let us see how it is made.
Preparation time: 5 hrs
Cooking time: 20 minutes – 1 hr
Serves:3- 4
Ingredients:
200 gm. or 1 cup arhar dal/tuvar dal/split pigeon peas
3 cups water for pressure cooker/ 5-6 cup for cooking pot
1/2 tsp. turmeric powder
Salt to taste
For tampering:
2-3 tbs oil
1 tsp cumin seeds
1-2 whole red chillies
1/2 tsp. chilli powder (optional)
One pinch of asafoetida/hing powder
Method:
Wash the dal properly and transfer it to the cooking pot or pressure cooker. I use pressure cooker as it saves time and fuel.
If you are using pressure cooker add 3 cups of water to the dal or if you are using cooking pot add 5- 6 cups of water to the dal.
Add turmeric powder and salt to the dal and place the lid.
For pressure cooker keep the flame full till you hear the 1st whistle and after the 1st whistle lower the flame and let it simmer for 7-8 min.
For cooking pot keep the flame full till the water gets boiled and lower the flame and let it simmer till the dal is cooked.
Now heat a fry pan or kadai and add oil to it.
Add cumin seeds and let it splutter.
Add red chillies, chilli powder and asafoetida and trun the flame off.
Add this tamper or tarka to the dal and serve with rice or rotis.