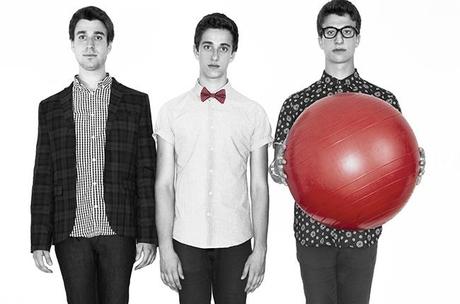 [Image from billboard.com]
If songs get stuck in your head easily, maybe it's best you….not read this. Well, you're curious now, so I guess carry on.
I first encountered indie-pop band AJR in early July after seeing them open for Lindsey Stirling. Made up of three brothers – Adam, Jack, and Ryan Metzger – they reminded me of The Summer Set, a young Imagine Dragons, or Paradise Fears, with the stage presence and charisma of a younger, sibling-comprised version of twenty one pilots.
While I was into their set, I wasn't completely sold until I heard "I'm Ready." Again, don't say I didn't warn you.
Discovered through a tweet to singer Sia, the Met brothers are currently climbing the Top 40 charts with "Ready," and have sold 350,000 downloads according to SoundScan.
The brothers' debut 5 song EP, I'm Ready, was released independently, before signing with Warner Bros. Records. The band plans to release their debut album Living Room this fall. The brothers hope that the album will show that "the best ideas win."
"It's not necessarily the amount of money that's thrown at a project. It's the most creative and original ideas that bubble up," said Ryan in an interview with USA Today.
They definitely have creativity on lock. "Ready," which opens with a Spongebob Squarepants sample of the titular character screaming his signature "I'M READY!" (yes, you read that right), is undeniably cheesy. And a little corny. But so is most pop music, let's be real. The song's not gonna be played as a first dance at a wedding and we'll probably forget about it in a couple months, but it's cute, and it's catchy, and it's summery. I can already hear parents across America roll their eyes and stifle a laugh as their young child excitedly squeals about "their song" being on.
It's no "high-brow" art, but it's a fun song.
And the music video appealed to my love for media studies – the music video features fans sharing and creating content related to the song! I squealed a little! I'm a huge nerd who loves participatory culture-related things! – so I was pretty much sold.
Check out AJR's debut single, "I'm Ready" below, and listen to their debut EP on Spotify or Soundcloud. To keep up with the brothers and their updates, follow them on Twitter at @AJRBrothers or like them on Facebook.