A few weeks ago I read about Path and wanted to explore it. This morning I downloaded the app to see what it is all about.Path lets you keep just 50 of your top friends from all your social networks in one place. It's like having a journal with your closest friends or family.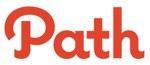 According to the founders of Path, Path allows you to capture your life's most personal moments and share them with your 50 closest friends and family in your life who matter most.
I downloaded the app on my Droid. You can only use Path on an application either on the iPhone or Android. It first asked me to connect with some gmail users and then on to Facebook. You can there share your photos and videos. I like that feature with family members. (If I could only get them on the Path!)  You info is stored on a Path cloud as part of cloud computing.
You can watch their video and learn more:
You  can also follow Path's Blog for updated info on this app.
Will you be on the Path with your family and friends?