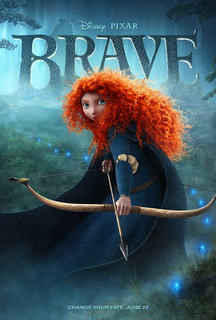 Image Courtesy of Disney & Pixar

There is something cute about my hubby and me.  
It's our in-thing if you must: We love Disney and Pixar.  We expect for movie magic to happen before our very own eyes when both studios join forces to create, well, something magical.
It's almost like a renewal of our vows happens each time we cuddle to watch a film.  Really.  No joke. 
We love films that much and don't miss - at all - the absence of (our) children.  Because, well, we have none (together - that is!).
Any who...
So needless to say the first time we say a trailer about Brave, the new Disney and Pixar animated comedy adventure, my hubby and me literally did a cart-wheel on our couch.  We had to see it.  
And then we get an invite from Disney to do exactly just that.  So freshly showered after a long (LONG) day for the both of us, we ski-dawdled to our long five-minute drive to Century City to watch the film.
"Brave," according to the Disney & Pixar press materials, "follows the heroic journey of Merida, a skilled archer and headstrong daughter of King Fergus (voice of Billy Connolly) and Queen Elinor (voice of Emma Thompson). Determined to carve her own path in life, Merida defies an age-old custom sacred to the unruly and uproarious lords of the land."
Sounds good, right?
Well, that was our expectation until, the movie got a little too gory for my taste.  Heck, as open-minded as I am, I wasn't surprised to learn that several people left the film early because it was a little too violent for their young children. 
Needless to say, animation or not, I wasn't about to leave the film, especially when the quick-slow-slow-start got a little, well, quicker.
Mostly because the movie heroin, Merida, created havoc when her ill-fated wish is granted by no other than a Witch.  Yes sir-e a witch.  (I did mention this was a DISNEY film, right?)
Then, guess what?  Poor Merida has to be Brave (hence the movie name) and "harness all of her skills and resources – including her clever and mischievous triplet brothers – to undo a beastly curse before it's too late, discovering the meaning of true bravery."
Yawn, yawn, yawn.
Sorry - but that's when the movie took a turn for the worse.  Without giving too much about the movie, let's put it this way: if the lesson was to be a spoiled brat, get your way, hurt your parents, and then try to make-up for it, the movie pretty much communicated that.
Unfortunately, the movie Brave wasn't so much about a young girl being Brave-enough to stand up for herself, as much as it was about a young girl being stubborn and doing anything possible to get her way.  Including, unfortunately, hurting the the woman and man that love her the most: her parents.
Sure, there was a happy ending.  But by that time, the only thing I loved about Merida was her hair.