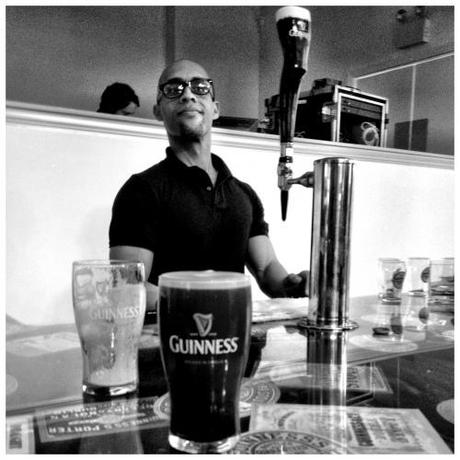 He's very proud of his pour!
Last night, The Wookie and I attended a Guinness Believer event in Old City Philadelphia. This would be our second time attending a Guinness promotional event.
This year's event was held at The Trust which is located at 3rd and Arch Streets in Old City Philadelphia. In 2004, this building was used to house the cast of MTV's Real World Philadelphia. While I don't drink nearly as much Guinness as I used to (you can thank the American Craft Beer revolution for this), I will rarely turn down a pint, especially when it's free!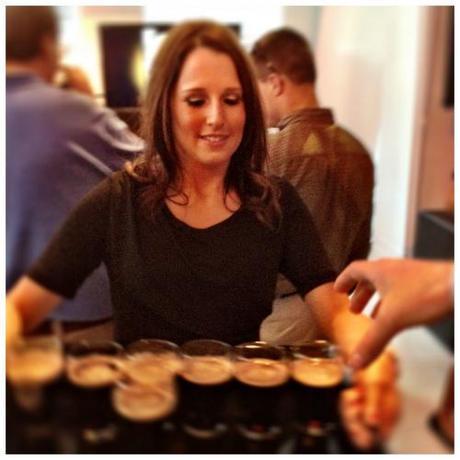 Passing out the Guinness Foreign Extra Stout
This event followed the same format as other promotional events that I have attended over the years, i.e. they give you a free drink as soon as you arrive, make you watch a promotional video and presentation by a brand ambassador, let you try a new product, and then they show you the door.
Last night's Guinness Believer event lasted just under an hour, and in that short time, we were able to have a pint of Guinness Stout, a short pour of Guinness Foreign Extra Stout, and lastly, a short pour of the Guinness Black Lager. Of the three beers that I sampled, I was particularly impressed with the Guinness Foreign Extra Stout since it had a much richer flavor when compared to the standard issue Guinness Stout.
While the good people at Guinness didn't break any new ground with this particular event, they did give us an excuse to spend some time in Old City on a beautiful April night, and they even gave us some free beer and snacks. What's not to like about that?