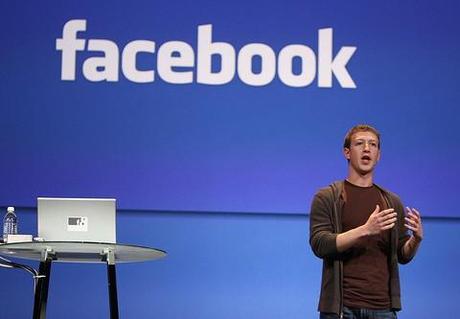 Mark Zuckerberg, Facebook founder. Too many changes? Photocredit: b_d_solis http://www.flickr.com/photos/briansolis/2696198607/
Mark Zuckerberg's social network, Facebook, has changed the homepage that users log on to, again. Previously things posted by friends were added chronologically; now with the addition of "top stories" chosen by a mysterious mechanism which the site has declined to explain, they appear somewhat randomly at the top of the page; and a "news ticker"  spills its noisome mixture, like the Blatant Beast in Spenser's Faerie Queene, up the right hand side of the screen, regardless of what the friend is doing, or who they are doing it with – so you can see if they've commented on someone who isn't your friend.
There are also plans to add yet more buttons: "read", "watched", "listened", and even a "want" button, Lord help us. As Google+ rears its tiny head, the monolithic Facebook is getting jittery (with or without reason); hence it may well be partnering up with websites like Spotify, Deezer, Netflix and Hulu, whilst offering other sorts of services such as picture editing. Yes, our Facebook home pages will become another "media hub." Facebook is planning to launch an IPO sometime next year, with its most recent valuing putting it at $66.5 billion.
"Now, News Feed will act more like your own personal newspaper. You won't have to worry about missing important stuff," said Facebook engineer Mark Tonkelowitz, quoted in The Daily Mail.
Ho-hum. Dan Lyons on The Daily Beast was equanimous. This has happened before. The news ticker is basically "a knockoff of Twitter." Facebook users are not keen on having their top stories chosen for them. Lyons quoted one: "NOBODY SETS THEIR PAGE TO TOP STORIES. … HOW DO YOU KNOW WHAT IS IMPORTANT TO ME FACEBOOK? CAN YOU READ OUR MINDS?" This is not a good time for Facebook to make its users angry. Google+ is clean and minimalist, whereas Facebook just keeps cramming in more features. It's got to stay ahead of its competitors, yet keep its users happy – "a tricky wire to walk."
Hey guys! No really, this is gonna be great! Ben Parr on Mashable was more excitable. What Facebook is about to do is "mind-boggling." The problem is that people now visit Facebook because they have to, not because they want to: people won't leave "simply because all their friends are there." Something's got to change. And on Thursday, Parr said, somewhat breathlessly, "Facebook will be reborn. Prepare yourselves for the evolution of social networking." Wowser.
"In all honesty, though, these changes seem like another example of Facebook fixing what was never broken," said Daniel S Levine on The CelebrityCafe.com