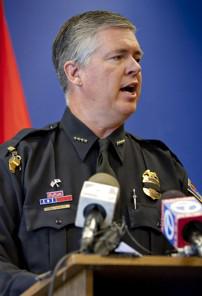 Albuquerque Police Chief Ray Schultz
The Washington Post reports
Activists are renewing their request for a federal probe after Albuquerque police shot and killed a second person within three days.
Officer Russell Carter fatally shot Gary Atencio on Wednesday after a chase that began when Atencio pulled his car over and began shooting at his wife, state police said. It was the third fatal shooting by Albuquerque police this year and the 18th since 2010.
Jewel Hall, president of the Martin Luther King Jr. Memorial Center Board, said this week's shootings showed that federal authorities need to investigate the department despite changes to training and hiring practices.
Those changes were instituted last year in response to public outcry over the number of shootings, most of which involved young Hispanic men.
What's your opinion? It sounds like the cops in that town could use better training, like most, but is that the real problem? No, I don't think so. The real problem is the easy access criminals have to guns.
This is what needs to be addressed, of course in addition to the other initiatives.
What do you think? Please leave a comment.