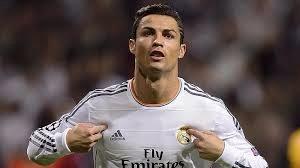 BY: Jennifer Lewis
In 2014 Real Madrid became the first team to win ten Champions League titles in what became known as La Decima. It was a thrilling final against local rivals Atletico Madrid but perhaps the most memorable image of the night was Cristiano Ronaldo tearing off his shirt after a goal to reveal an incredibly athtletic and muscular body.
It was the physique of an Olympic gymnast but the football world seemed to be blown away by the sheer specimen of Ronaldo. Now not only could he run like a sprinter but he also looked like a champion boxer. In the subsequent months a number of other players have performed similar celebrations after scoring goals.
Bigger, stronger, faster, better?
Arsenal's Alexis Sanchez revealed a similarly stunning physique as did Southampton's Dusan Tadic at Old Trafford recently. Footballers, it would seem, are fitter than ever. It's a far cry from a few decades back at the beginning of the Premier League when players like Matt Le Tissier and Neville Southall graced the pitch. Even Brazil's Ronaldo was accused of being overweight and out of shape at the 2002 World Cup in Japan and he is widely regarded as one of the best ever.
In the case of C. Ronaldo and Sanchez, there is little doubt about their supreme athletic ability but is this level of hyperfitness achievable for all players? Also, it begs the question of what this kind of role model is saying to younger players of the game. We don't have to look too far back to discover plenty of shocking evidence for what pushing yourself too hard can do to the body.
The serious consequences of being super-fit
One such incident was the death of Motherwell captain Phil O'Donnell after he collapsed on the pitch back in 2008. At the time, Celtic defender Gary Caldwell who was struggling to come to terms with the incident was quoted as saying he thought some footballers had become too fit, turning them into potential 'time bombs'. Caldwell said in The Daily Mail: 'In America for years American football players and bigger athletes have been dropping dead and now in football it has to be looked into because things like this shouldn't happen.'
Footballers have clearly become fitter over the past decade. According to a report in the UK by Sunderland University, footballers are fitter than they ever have been before. The research has revealed that: 'players' performance levels have increased substantially in recent years and in what could now be described as a completely different ball game.'
The competition for places and stresses of the modern game has also seen players pushing themselves to play when injured. The use of cortisone injections in football has been described by governing body FIFA as both a 'blessing and a curse' in a report.
The pressure to stay fit
As well as cortisone, a number of players have been found to be using pain killers to get through training sessions and matches. This not only puts undue stress on the heart but also risks further injury and potentially life-changing disability. This may be reflective of the general increase in the use of painkillers across the world but it has special relevance to footballers and the pressure to be and stay super-fit.
The use of painkillers, such as opiods, also has potentially devastating links to addiction and even death. According to leading US painkiller research carried out by Rehabs.com: 'the use of prescription painkillers is the fastest growing drug problem in America'. This is research that is backed up by numerous drug information services across the world, such as drugfreeworld.org. This is certainly a cause for concern in football too and footballers who have issues with painkillers should be supported in the same way as they are if they have alcohol or gambling issues, according to leading online health authorities such as webmd.com.
Is it good for the game?
In a recent article following the 2014 World Cup, CBS News published an article asking if 'World Cup players at the top of their game could be the world's fittest athletes?' It compared them to legendarily tough sportspeople such as marathon runners, cyclists and cross-country skiers. While it is almost impossible to know without rigorous testing, the fact that footballers are in this bracket at all shows how far they have come in the last two decades.
The conclusion seems to be that footballers getting quicker, stronger and fitter is good for the game. The sport as a whole has benefitted but measures need to be put in place to stop younger players feeling pressure to do all they can to put fitness first. After all, it's only a game.