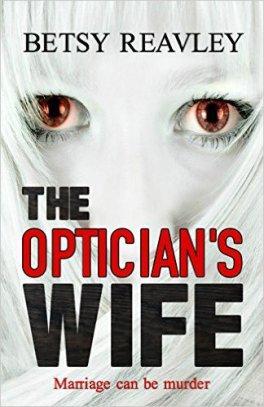 TITLE & AUTHOR: The Optician's Wife by Betsy ReavleyAUTHOR'S PROFILE: PUBLISHER'S WEBSITE
I was given this ARC by the author in exchange for an honest review.
WHAT'S IT'S ABOUT
PUBLISHER: Bloodhound BooksEDITION: KindlePUBLISHED: Expected 18 June 2016OPENING
PAGES: 251 Pages
WHAT I THOUGHT
Can you ever really know someone?

When Deborah, an unpopular seventeen-year-old, meets the charming and handsome Larry, he sweeps her off her feet. The trouble is Larry has a secret.
Then a series of grisly murders cast a shadow over everything.
As Deborah's world starts to fall apart she begins to suspect the man she loves of a terrible betrayal.
And to keep their marriage alive, sacrifices must be made.
A compelling, psychological thriller that unpicks what goes on behind closed doors and reminds us that sometimes the worst crimes can take place closer to home than you think.
The Optician's Wife is a powerful psychological thriller by the best-selling author of Carrion, The Quiet Ones and Beneath The Watery Moon. If you are a fan of authors likeAngela Marsons, Kathryn Croft, Helen Durrant, Barbara Vine or Rachel Abbott you will be gripped by this brilliant and bracing psychological thriller.
I always knew I was different. I've known since I was very small, since I could hold a pencil.
The Optician's Wife is a fantastic, twisty thriller that completely messes with your head - in a good way. The book much more complex and layered than it first appears. Dee is one of the most complex fictional characters I've ever read. She's a very sympathetic character at first; sad, frumpy, shy and a bit put upon - the kind of person you instinctively feel sorry for. I really didn't like Larry at first and thought he was a total creep and felt frustrated when Dee falls for his dubious charms. Dee blossoms thanks to her marriage to Larry and having three children - though not in a very good way. She becomes quite harsh and abrasive and I really didn't like her. I missed shy, sweet naïve Dee. The final quarter of the novel is packed with events shocked me so much my jaw literally smashed into the floor. Dee is a brilliant example of an unreliable narrator and I never saw what happens coming. I'm still stunned by the turn of events. This was a different sort of thriller than I'm used to and I'd describe it more as domestic noir. Dee is a fantastic narrator. I'd highly recommend The Optician's Wife. It's head and shoulders above the competition.