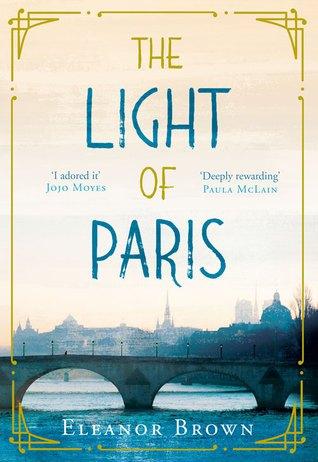 TITLE & AUTHOR: The Light of Paris by Eleanor BrownAUTHOR WEBSITE
AMAZON.UK
AMAZON.COM

I got an ARC of this book from the publisher via NetGalley in exchange for an honest review.
WHAT IT'S ABOUT
PUBLISHER: The Borough PressEDITION: KindleOPENING
Madeline 1999
WHAT I THOUGHT
RELEASE DATE: Expected Publication 14 July 2016

PAGES: 368 Pages
From the bestselling author of THE WEIRD SISTERS comes an enchanting tale of self-discovery that will strike a chord with anyone who has ever felt they've lost their way.
Chicago, 1999.
Madeleine is trapped - by her family's expectations, by her controlling husband - in an unhappy marriage and a life she never wanted. But when she finds a diary detailing her grandmother Margie's trip to Jazz Age Paris, she meets a woman she never knew: a dreamer who defied her strict family and spent a summer living on her own, and falling for a charismatic artist.
When Madeleine's marriage is threatened, she escapes to her hometown to stay with her disapproving mother. Shaken by the revelation of a family secret and inspired by her grandmother's bravery, Madeleine creates her own summer of joy. In reconnecting with her love of painting and cultivating a new circle of friends, the chance of a new life emerges - but will she be bold enough take it?
I didn't set out to lose myself. No one does, really. No one purposefully swims away from the sold, forgiving anchor of their heart. We simply make the tiniest of compromises, the smallest of decisions, not realising the way those small changes add up to something larger until we are forced, for better or worse, to face the people we have become.
The Light of Paris is a lovely, heartbreaking book. It reminds me a lot of A Week in Paris by Rachel Hore that I read earlier this year. In a good way. Both books deal with similar themes and are set in my favourite city. I cried a lot and laughed a lot reading this book. I really liked the way the story moved back and forth between Madeline's story and her grandmother's story before, during and after her time in Paris. I would have to have been Madeline living a suffocating repressed life out of fear of what other people would think. I'm glad my parents didn't give a damn what people thought and let me do whatever made me happy. Madeline's life echoes her grandmother's and in a way her mother's - three women trapped in similar patterns. This isn't uncommon. A lot of people repeat the mistakes of their parents unless they break the pattern. I felt every emotion reading this book. I laughed, cried, felt mad, wanted to hug the characters and sometimes slap them or give them a good shake. The Light of Paris is a fantastic read.