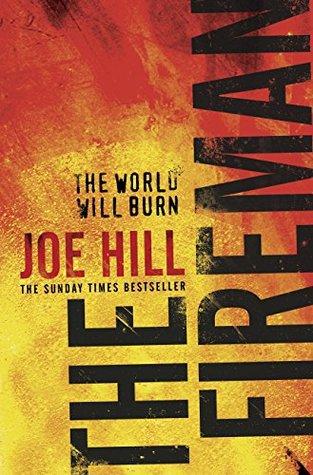 WHAT IT'S ABOUT
I got an ARC of this book from the publisher via NetGalley in exchange for an honest review.
Nobody knew where the virus came from.
FOX News said it had been set loose by ISIS, using spores that had been invented by the Russians in the 1980s.
MSNBC said sources indicated it might've been created by engineers at Halliburton and stolen by culty Christian types fixated on the Book of Revelation.
CNN reported both sides.
While every TV station debated the cause, the world burnt.
Pregnant school nurse, HARPER GRAYSON, had seen lots of people burn on TV, but the first person she saw burn for real was in the playground behind the school.
OPENING
With the epic scope of THE PASSAGE and the emotional impact of THE ROAD, this is one woman's story of survival at the end of the world.
WHAT I THOUGHT
Harper Grayson had seen lots of people burn on TV, everyone had, but the first person she saw burn for real was in the playground behind the school.
Joe Hill is one of my favourite writers. He rocks! I cannot begin to tell you how much it means to have an ARC of this book. Ok, fan girl gush over - it's time to get down to business.

The Fireman is a fantastic pre, during and post-apocalyptic novel. I'm a huge fan of this type of fiction and The Fireman ticks every box. The virus, strange markings that appear on people and is quickly christened Dragonscale is a very original way to end the world. It made a pleasant change from books about the walking dead. I really liked the fact that the book focuses mainly on Harper's story. Hill could have done something similar to his dad with The Stand and used a huge cast of characters but I'm glad he focused on Harper and the small group of survivors she hooks up with. This made the book a lot more personal; the darker moments had way more impact. The parts of the novel that focus on the camp Harper joins were thoroughly engrossing though incredibly sad at times. The Fireman of the title is a great character. His story broke my heart. I loved the way the novel is paced with tension and suspense gradually increasingly. The novel gets quite dark and sad towards the end and I cried a few times. The ending is spot on though. The Fireman will stay with me for a long time.