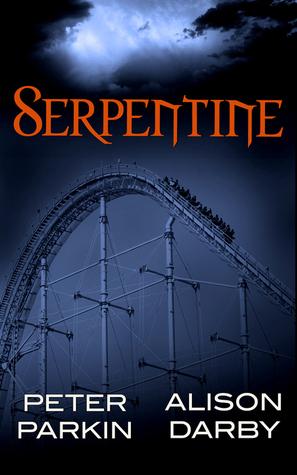 SERPENTINE BY PETER PARKIN & ALISON DARBY
GOOD READS (PETER PARKIN)
GOOD READS (ALISON DARBY)
I got this ARC from the publisher via NetGalley in exchange for an honest review.
WHAT'S IT'S ABOUT
SANDS PRESS (KINDLE), EXPECTED PUBLICATION 14 JUNE 2016250 PAGES
WHAT I THOUGHT
Nathan Morrell is one of the foremost designers of thrill rides, and for him the occupation is much more than just a career; it's an undeniable passion. Today is a proud day indeed. The inaugural circuit of Nathan's latest creation, the world's newest and most thrilling rollercoaster, is an event that has been long-awaited. The anticipation of the very first ride of the Black Mamba has created a buzz in the state of Virginia-for politicians, the public, the favoured first riders, and for Nathan's company, Flying Machines Inc.
But this event is also being watched with interest by others-people lurking in the shadows who see the Black Mamba as a means to an end. There is a spine-tingling truth at stake that involves much more than just a mere ride at an amusement park. A truth that is intended to remain secret.
Serpentine is an intoxicating thriller that takes a page right out of today's headlines. And then it takes those headlines one page further, right to the edge of an ominous and imminent crisis that threatens the world as we know it.

It reached majestically upward into the glorious Virginia sky.
This is my first time reading the authors.
Serpentine is one of the most original thrillers I've ever read. The dramatic opening caught my attention and it was held all the way to the final page. Serpentine is unlike any thrillers I've ever read which usually involve a serial killer, lone murderers or crazed stalkers. Serpentine is very different than the usual thriller fare - for all the good reasons. This thriller has all the elements of a great read - political espionage, conspiracy theories, shady men in suits making ominous threats, blackmail, murder and dodgy secret agencies acting suspiciously. My head was full of questions as I read this highly original thriller. One question would be answered then I would read two page and have another fifteen questions. And another twenty. Then a couple more. Serpentine gave me the right kinds of chills. There are some pretty dark moments in the book but these moments are executed so well my jaw literally hit the floor.
I'd highly recommend Serpentine for someone who wants a great thriller offering something different and original.