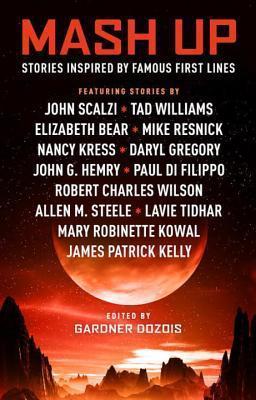 MASH UP: STORIES INSPIRED BY FAMOUS FIRST LINES
BOOK PAGE (PUBLISHER'S WEBSITE)
WHAT'S IT'S ABOUT
TITAN BOOKS (PAPERBACK), EXPECTED PUBLICATION 7 JUNE 2016EXTRACT
From Fireborn by Robert Charles Wilson
432 PAGES
WHAT I THOUGHT
I was given an ARC by the publisher in exchange for an honest review.
Pride and Prejudice meets Macbeth by way of Moby Dick and a dollop of the speculative, in this hugely entertaining anthology where authors such as John Scalzi get inspiration for short stories from the first lines of famous works of literature. Edited by hugely respected anthologist Gardner Dozois, the collection includes stories by John Scalzi, Tad Williams, Elizabeth Bear and many others.
Fireborn by Robert Charles Wilson
The Evening Line by Mike Resnick
No Decent Patrimony by Elizabeth Bear
The Big Whale by Allen M. Steele
Begone by Daryl Gregory
The Red Menace by Lavie Tidhar
Muse Of Fire by John Scalzi
Writer's Block by Nancy Kress
Highland Reel by Jack Campbell
Karen Coxswain, or, Death As She Is Truly Lived by Paul Di Filippo
The Lady Astronaut of Mars by Mary Robinette Kowal
Every Fuzzy Beast Of The Earth, Every Pink Fowl Of The Air by Tad Williams
Declaration by James Patrick Kelly
Sometimes in January the sky comes down close if we walk on a country road, and turn our faces up to look at the sky.
Mash Up is a hugely enjoyable collection of stories. Some of my favourite writers contribute including Mike Resnick, Elizabeth Bear and Nancy Kress. I also discovered some great new writers which is always a good time. I love the concept of the collection and think this is a fantastic, highly original idea which is executed extremely well. One thing that strikes me is the diversity of the collection. Each story starts with a line that will be familiar to most of us (i.e. it was a dark and stormy night) and ends up somewhere quite unexpected that has nothing in coming with the original source material for the line. It would have been easy to write alternative versions of well-known stories but the authors in this collection create something completely different. I also loved the range of opening lines including fiction, the bible and the declaration of independence. I really like the idea of taking the sentence from something non-fiction and using it in a fictional piece. Top stories for me were Fireborn by Robert Charles Wilson, No Decent Patrimony by Elizabeth Bear, The Red Menace by Lavie Tidhar and Writer's Block by Nancy Kress.