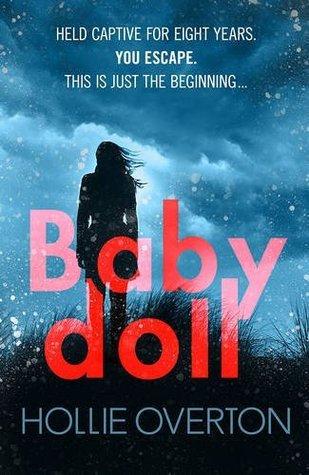 BABY DOLL BY HOLLIE OVERTON

WHAT'S IT'S ABOUT
She kept moving forward. She didn't stop. She didn't look back.
I got an ARC of this book from the publisher via NetGalley in exchange for an honest review.
CORNERSTONE DIGITAL (KINDLE), EXPECTED PUBLICATION 30 JUNE 2016400 PAGES
Lily has been abducted from outside her high-school gates.
For eight long years she's been locked away from the outside world. During that time she's changed from a girl into a woman. She's had a baby.
OPENING
And now she has seized her chance and escaped.
WHAT I THOUGHT
Running for her life, with her daughter in her arms, she returns to her family and the life she used to know - to her much-loved twin sister Abby, her mum, her high-school boyfriend - and her freedom.

But is it possible to go back?
Lily's perfect life as a teenager doesn't exist anymore. Since she's been gone, her family's lives have changed too, in ways she never could have imagined.
Her return, and the revelation of who took her, will send shockwaves through the whole community.
A dead bolt has a very specific sound.
Baby Doll is a well-written, edge of your seat thriller. This will be one of my top reads of 2016. The book deals with a similar premise to Room by Emma Donoghue but is very different from Donoghue's novel. This is one of those books that you can't stop reading one you've started. I found myself reading five chapters then having to read five more to find out if this storyline was resolved and then I absolutely had to read another five chapters because of this reason and that reason. This is definitely a page turner than will have you engrossed. I was literally glued to the book for the last 100 pages or so. I loved the way Lily and her twin sister Abbey's relationship is explored. Abbey pain was almost unbearable at times. The revelation of who took Lily eight years ago was a sucker-punch straight to my gut. The novel uses four different narrators; Lily, Abbey, their mother Eve and the man who took Lily. This works really well. I loved having the different perspectives on what was happening. Lily is a great character and comes across as incredibly brave and resilient, someone who refuses to be broken by all she has endured. Baby Doll has a stunning and unexpected ending, one that will be in my head for a long time. Quite simply put, Baby Doll is a brilliant thriller.