Shallow fried mildly spiced colocasia /Taro root
Arbi/colocasia/taro root is a tuber vegetable and is usually available during summer season.There are different ways to make this vegetable-steaming, frying,shallow frying,boiled .Every family have their own favorite way of making arbi curry.
 Its slightly slimy in nature so many people avoid making it but if done properly it turn out very delicious.First you have to be careful while boiling taro root as it should be boiled till just done,
over cooked arbi will turn very slimy. W
hile cooking you have to add some kind of souring agent to balance the sliminess and blend taste,yogurt, mango powder, tamarind juice or lemon juice can be added,but yogurt goes very well with arbi / taro root curry,so I always prefer to add some yogurt in arbi ki subzi.
Arbi is very good in fiber so excellent for the digestive system, very high in vitamin
 C and 
E ,both of which are anti-oxidants. Taro roots have zero cholesterol so a good vegetable for every one.As arbi is heavy and produce gas and may cause bloating in the stomach so addition of asafotida,cloves,ginger, ajwain and curd makes it delicious and easy to digest.
I have also posted few more Arbi recipes -the crisp and roasted arbi-

 Ajwaini masala Arbi

,

 gravy wali- 

Dahi wali arbi

 and special for vrat or prashad the popular -  

Vrindavan wali arbi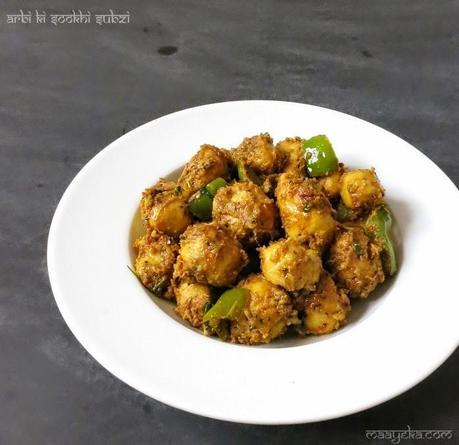 Prep time - 15 min
Cooking time - 10 min
Cuisine - North Indian
Difficulty level - Medium
Spice level - medium
Type - Side dish
Serve - 5

INGREDIENTS-
Taro roots / Arbi / Colocasia - 450 gms

Capsicum/shimla mirch, sliced - 70 gms

Ginger, grated - 1/2 tsp

Turmeric / Haldi -3/4 tsp
Chili powder / Lal mirch - 1tsp
Mango powder / Amchoor - 1.5 tsp
Coriander powder / Dhaniya - 1.5 tsp
Garam masala - 1/4 tsp

Chopped coriander or mint - 2 tbsp

Salt -to taste
Tempering / Waghar -
Cooking oil - 4.5 tbsp

Carom seeds / Ajwain - 1 tsp
Asafoetida / Hing - 1/3 tsp

Clove powder -  a pinch of
PROCEDURE-
Wash and cook  arbi /taro root in a pressure cooker with just enough water OR boil in a pan till done (don't over cook it).

Drain it and when it cools down completely, peel off the skin with your hands. You won't need to use a knife or peeler.

If the arbis are larger than usual, you can cut them in two or three smaller pieces.

Heat oil in a broad and heavy bottom pan.

Add carom seeds and asafoetida.

When the carom seeds start crackling, add diced capsicums and saute for a minute..

Now add asafoetida, turmeric and grated ginger in the oil and add the arbi.

Stir fry on high heat for 2 minutes. Don't stir too much at this stage.

Now add salt and all the spices and mix.

Let it cook on medium heat for 5-7 minutes, stir in between to turn the sides.

Add chopped fresh coriander or mint and mix gently.

Serve hot or cold with poori or chapati.
NOTE-
You can also make this arbi for fasting, just substitute chili powder with pepper powde

r.

Don't over boil arbi ,it should be just done,otherwise it may become mushy while stir frying.

If possible then boil arbi, peel and keep refrigerated for few hours then stir fry,this reduces its sliminess.

Dont skip ajwain ,hing and ginger as Arbi is heavy to digest and produce gas and ajwain ,hing and ginger help to digest it easily.