Blogging Marathon# 31: Week 3/ Day 1
Theme: Main Course
Dish: Aratikaya Annam (Raw Banana Rice)
Today we are starting the 3rd week of
Blogging Marathon
and my theme for this week is "Main Course". Like Valli mentioned in her post, even I'm not sure which dish is considered as 'main course' in an Indian meal. Is it the Curry that goes with the rice or is it the rice itself. It's almost like the 'who came first question -- chicken or the egg??'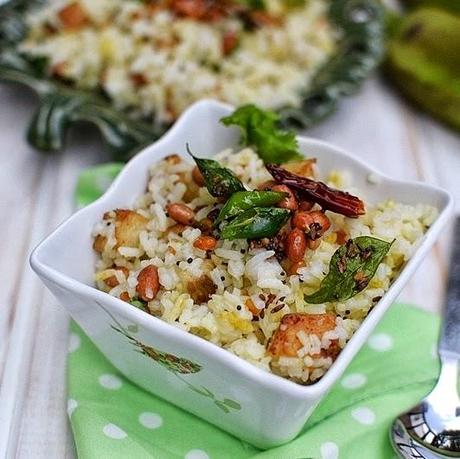 Well anyway I'm going to post 3 dishes that I think are 'main courses' in the next 3 days. For day 1, I have this raw banana rice. I saw the recipe on '
Eenadu
' site and since I had all the ingredients, made it right away. It is a modification of good old pulihora or lemon rice and tastes great without any side dishes. Quick and easy to make, perfect for lunch boxes and picnics.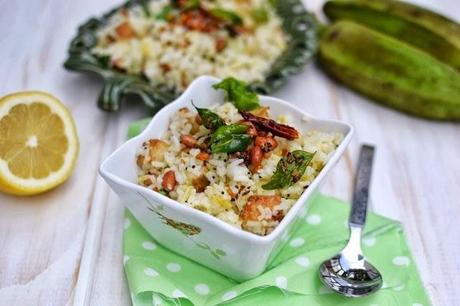 Ingredients
: Raw Green Bananas/ Plantains - 2 medium, peeled, diced and soaked in water to avoid discoloration Rice - 1cup Cumin seeds - ½tsp Mustard seeds - ½tsp
Chana Dal - 1tsp
Peanuts - 3tbsp
Dry red chilies - 3-4
Green Chilies - 2, slit
Turmeric - ½tsp
Curry leaves - 10-12
Lemon juice - 2-3tbsp
Cilantro - 2tbsp, chopped
Salt - to taste
Method
:
Cook rice and set aside to cool in a wide bowl.
Heat 2-3 tbsp oil in a saute pan and add the raw banana pieces and saute until lightly golden. Remove and set aside.
In the same pan, heat 1tbsp oil and add mustard seeds, cumin seeds, chana dal, peanuts, dry red chilies and cook until the seeds start to splutter and the seeds have turned lightly golden. 
Next add curry leaves and green chilies. Cook for 30 seconds.
Add turmeric, salt, tempering, fried raw banana pieces and lemon juice to the rice. Mix gently and garnish with chopped cilantro. Enjoy!!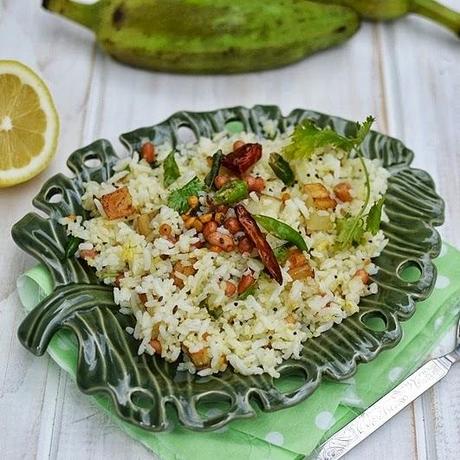 Lets check out what my fellow marathoners have cooked up today for 
BM# 31
.