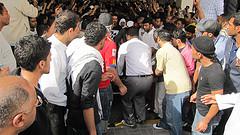 A recent report in the New York Times, based in part on research by Human Rights Watch, paints an alarming picture in Bahrain.  Security forces are invading hospitals and clinics or stopping ambulances to find wounded protesters and then taking their care-givers into custody.
Presuming sympathy with the protests, the Bahraini government has announced that 30 doctors and nurses had been suspended from practicing and that 150 more are being investigated. Outside observers say at least a dozen doctors and nurses have been arrested and held prisoner during the last month. Human Rights Watch has characterized these developments as "an assault on the health care system."
Designed to instill fear, this crackdown is apparently having the additional effect of depriving people, protesters or not, of the care they need. This scenario is likely playing out in other cities rocked by Arab protests, particularly in Libya. Clearly, travelers witnessing Arab unrest should add a shortage of doctors and nurses to the list of risks they face.
Photo by Al Jazeera English.