According to the Eastern wisdom teachings, the whole creation is brought forth through an impulse coming from the background of existence. It is described as a light emerging from the "Eye of Shiva". At the end of one creation, all is again absorbed into this eye of Shiva, the lord of divine will until the next creation is brought forth.
The passage of emergence and mergence is called the point of Aquarius. In the human body, it corresponds to the higher third eye at the top of the forehead. When this "Eye of Shiva" is opened in us, it is like a lightning expressing the divine will and passing through the whole system. This eye can create and destroy; therefore, the knowledge about it cannot be given to the present humanity which is selfishly oriented.
To visualise the first impulse I fused images of ripples on a water surface, of a galaxy and of sunrises. I transformed a photo of a statue of Shiva (Wikimedia: Kachnar City, author Shivam S.) holding a trident with a drum and a mala, symbols of the vibration of sound and of the ether. The serpent around his neck represents the kundalini energy lifted up to the creative planes. From out of his third eye, the impulse of electric fire penetrates all planes of existence.
See more pictures on the site with my paintings. If you want to print the image, you can download the file in medium and high resolution format.
The different zodiacal signs are clustered in groups – you can see here all my Aquarius paintings.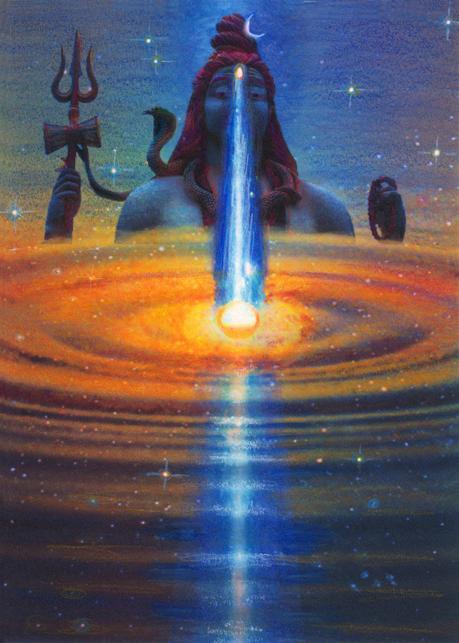 17 October 2017, pencils and photo work