The symbol of Aquarius is a man who carries a water jug. From the opening of the jug, water continuously flows out without new water flowing in. We only see the water existing as a potential at the moment when it manifests itself. These are the waters of life that bring forth new unfoldment every moment.
The figure of the Aquarius in the picture was created with the help of photos of a fountain in Valencia, Spain, and the head of a statue of the Sun God in the Capitoline Museums, Rome. Water and stars emerge from the jug and glide into the waters of space.
Various NASA and ESA star images were used for the background. The constellation of Aquarius in the upper left corner resembles a lightning bolt or an electric fire: The energy of the Aquarius flashes like a lightning. On the right, Uranus, the regent of Aquarius, appears in the waters of the space in which countless suns move.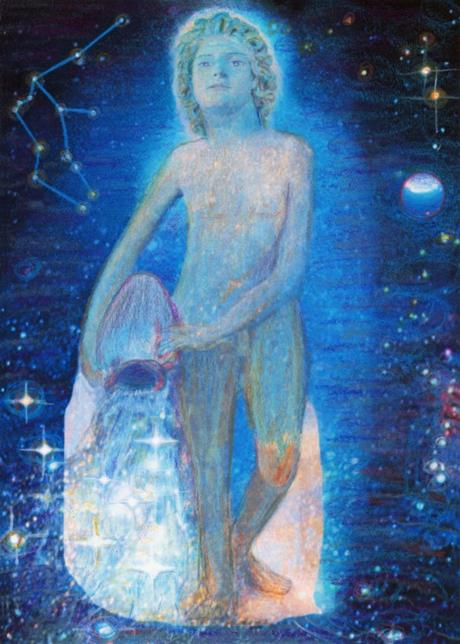 4 October 2018, pencils and photo work
See more pictures on the site with my paintings. If you want to print the image, you can download the file in medium and high resolution format.
The different zodiacal signs are clustered in groups – you can see here all my Aquarius paintings.
The video: