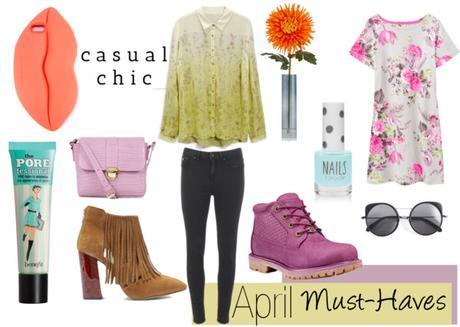 How are we in April already? Feels like only five minutes ago it was Christmas and only ten minutes since I got married in July! Obviously it really is April and we really are in 2016, so instead of feeling constantly gobsmacked how quick the months are flying by I have created my monthly must-haves for April.
April is the month where the sun teases us but the wind still delivers a chill, and of course the classic April showers are often soon to follow. I did debate whether to suggest some kind of umbrella or coat, but let's be honest if you live in the UK then you'll have something already.
The April Must-Have Items
// Phone Case - Stella McCartney Lips Case Absolutely adore that Stella McCartney phone cover! My days of 'I can't find my phone' would be over because I just wouldn't be able miss it.
// Shirt - Next Soft Lime Viscose Printed Shirt  The shirt from Next has been a big plus point to my wardrobe and I've been wearing it with blue jeans and those tan boots.
// Primer - Benefit PorePressional I've tried this in tester form for the first time and always meant to pick some up. It is truly amazing primer.
// Bag - Accessorize - Mini Croc Pushlock Cross Over Bag Lilac is becoming my favorite color this month, it's making me feel ready for spring and having a colourful small crossover bag is a great addition to a wardrobe.
// Boots - Next Tan Suede Fringe Cut Out Boots Spotted these beauties at a Next press day and had to have them. I do feel a little like I should be in a Western movie walking in them because of the fringing, but once you get used to that it's fine!
// Jeans - Superdry Hi Waisted Black Skinny Jeans Decided a pair of classic black was still good move in April. They're still good for spring, not quite ready for colourful or white so keeping them relatively classic is smart move.
// Boots - Timberland Nellie Chukka Double Waterproof Magenta Boots On a more casual and practical note I have these Timberland boots in a gorgeous magenta shade. If you follow my social media and or YouTube you'll have seen these join me on my ski trips. Timberland boots are first and foremost a well established walking brand as well as being fashionable - now I have the best of both. These will be amazing for spring Sunday walks with the dog!
// Nail polish - Topshop Nails In Boys Next Door I've not actually used Topshop nail polish before - so not quite sure how good it is? Anyone? Regardless loving this shade of blue right now, I seem to slowly be putting away my deep, rich shades for light tones!
// Sunglasses -  Wood Wood Virgo Sunglasses I always go for a safe option with sunnies and so saw these from Wood Wood and really liked the design. They are boho hippy style meets early 90's. What's not to like?!
// Dress - Joules Riviera Jersey T-shirt Grey Post Dress Joules floral tshirt dress in a gray posy pattern has been on my radar for some time. This kind of dress is perfect for any occasion. Dress it up with heels or dress it down with white converse and your hippy glasses!
// Flower -  Next Orange Dahlia in Grey VaseFake flowers are my best friends. They cost a bit to start with but in the long run they are a better option than real flowers - because they last!
We have a good selection above but my main thing this month is about introducing those bright shades back into my wardrobe. Slowly teasing fabrics with beautiful floral prints is the way I'm headed but as it's still blowing a gale outside and raining as and when it wants, I'm holding back slightly... but come see me in May for some summer vibes and plenty of floral loving!