First visit? Glad you're here! I hope you'll take a second to "Like" my page on Facebook and subscribe for updates so we can stay connected!
I feel like I was just putting together a round-up and now, it's already the end of the month again! Throughout April, I saved so many articles to potentially add to the round-up that I spent nearly an hour just sorting through them and narrowing down the list to put together this post. I'm sure you're wondering why I didn't just share everything, but I didn't want to create an overwhelming list. You can definitely let me know if you want to see more in the coming months.
I realize this list is still quite long, but there's some important reading here. So, if you're pressed for time and can't go through everything now, you should totally bookmark or Pin this post for later.  Please let me know if these articles get you thinking! And, as always, if this round-up leaves you wanting more to read, there's plenty of awesome previous lists for you at the bottom!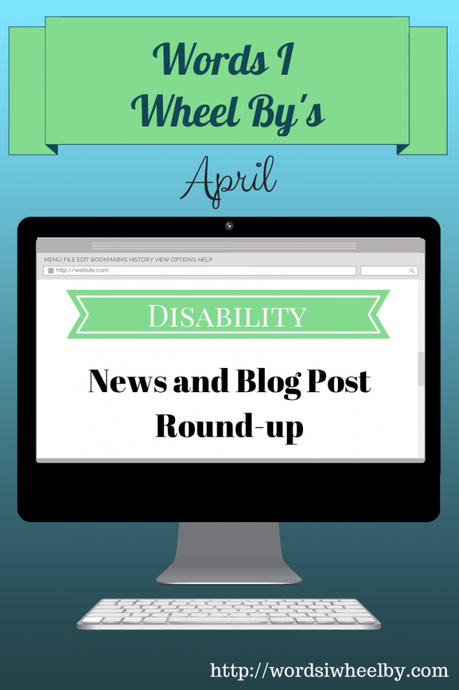 Disability News
Let's talk about sex education and disability – I really wish we'd finally reach a point where it wasn't newsworthy to discuss disabled people and sex ed. Everyone needs a proper sex education to make safe and smart decisions. EVERYONE OF ALL ABILITIES. I means seriously, it's the 21st century, people.
This Sign Language Rap Battle Is Unlike Anything You've Ever Seen – This video is a must watch! Jimmy Kimmel hosted the coolest sign language rap battle (and the only sign language rap battle) I've ever seen. I don't know what motivated the writers of the show to do this, but I love this incorporation of Deaf culture in mainstream media and I want to see tons more rap battles like this.
Disabled woman says she was denied a haircut at local salon – I was just sad and frustrated reading this article. I don't understand why things like this still happen in our society. Clearly, there's still lots of work left to do to conquer discrimination.
Ohio Judge Orders Man to Hold 'I AM A BULLY!' Sign – When I first read this story, I thought "Yeah! This judge is awesome! And this bully totally got what he deserved!" But as I continued to follow the news coverage, I had mixed feelings. First, is this just a form of bullying to fight bullying? Second, was this an effective punishment, or did it just serve to make the "bully" more bitter? What would have been a better punishment? Perhaps some form of community service would have been effective? Let me know what you think in the comments!
Disability Blog Posts
When is it OK to Ask? – In light of the fact that I was just asked about my disability yesterday, and that I've been asked approximately a zillion times before that, I felt this blog post was pertinent. When is it appropriate to ask a person about their disability and when is it just flat out nosy and rude? I think context and language choice has a lot to do with it. What about you? Have you had any really positive or really awkward experiences where you've asked someone about his/her disability or been asked about your disability?
Petty or Prejudice? The Dichotomy of the Word 'Midget' – This is a smart, humorous exploration of the negative connotation of the word "midget" – a word I absolutely refuse to ever use. Bonus points if you read this and enjoy the Gulliver's Travels reference!
Autism, Like Race, Complicates Almost Everything – Racial discrimination coupled with disability discrimination can be incredibly frightening and it's a very real problem. This powerful post gave me pause, for sure, and I believe it's something we all need to consider.
A Mutant from Planet Cripton, An Origin – I love this piece on disability identity, and I'm a big fan of my friend who wrote this post! Such a fun and poignant read.
Proud To Be A Grad School Drop-Out: #AutismPositivity2014 – I absolutely needed to add this 5th post to my round-up because it is in your face and fantastic. Too often, academia teaches that disability must be fixed, and instills within students a sort of superiority complex towards the population they're working with. The author of this post speaks out against that and explains her pride in her decision to leave grad school. This is a must read.
Did I miss anything you think I should have shared in this round-up? Let me know! I'm always on the lookout for more disability-related reading.

Past Round-ups:
March 2014February 2014
January 2014
Like what you read? Subscribe for weekly updates and be sure to confirm your e-mail!