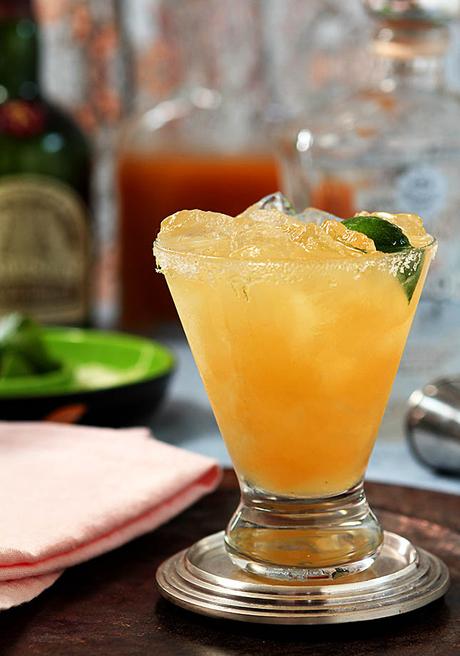 Margarita. My absolute favorite cocktail. Reposado tequila, orange liqueur, fresh lime juice. The three basics. From there I wish I had the time to make every single variety possible. So far? I haven't made one I don't like even if the Jalapeno one was a bit of a stretch from my more usual fruit forward versions. Not limiting myself to simply strawberries as that seems the only version most restaurants make, I've had some great cocktails. Strawberry Basil Margaritas are a huge favorite, Watermelon is fantastic but I've loved them all including Cherry Mint, Pomegranate, Orange Marmalade and Blood Orange Margaritas. Now I've got a new one and it's an Apricot Margarita. What can I say but that my love affair with all things margarita continues as strong as ever.
For years I was known for just one margarita, a cocktail I only made in the summer when friends were gathering at my home for a barbecue. It's timely to make but it is also perfect. For that cocktail, lemon and limes are juiced and zested and the mixture is steeped for hours before serving. It is THE margarita. The one that even margarita haters found loveable. That margarita changed everything for me and it's really all about the three basics. Reposado tequila; slightly aged. That slightly is a misnomer though for the difference is substantial; the awful burn of cheaper tequila is gone and the drink is not loved just for its potency; it becomes known for the layers of flavor. Orange liqueur is a must. Triple Sec can be a good orange liqueur but most often it is cheap, artificially flavored sugar water and adds little nuance to what you are sipping. Pop for real orange liqueur which will have the essence of orange in it, not just an artificial flavor, and the difference will again be significant. Last but not least? Fresh lime juice. Bottled or refrigerated choices just don't cut it in my book. Limes are no longer priced as if gold like they were last summer so buy a bunch to always have on hand for your favorite cocktail!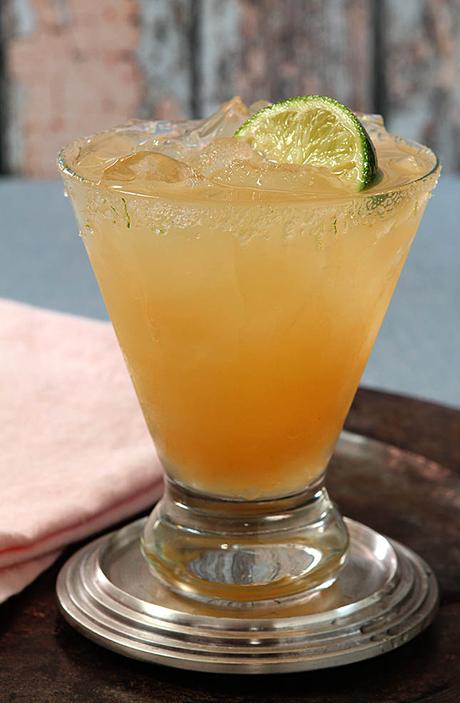 From there it's just about adding something that is in season; right now that would most likely mean berries of all varieties and lead into stone fruits during the heat of the summer. I've already got my plans for using Colorado peaches later this summer and until this past week, thought I might consider apricots...you know, something really different? The problem is that Colorado is not known for amazing apricots like they are for peaches. I love dried apricots and apricot jam but I can't remember the last time I found fresh apricots at the market that lived up to any expectation. Too often they are hard as rocks from being picked too early wherever they were trucked in from and they never ripen well enough to be worth the purchase. I honestly can't remember the last time I had a fresh apricot that was really good.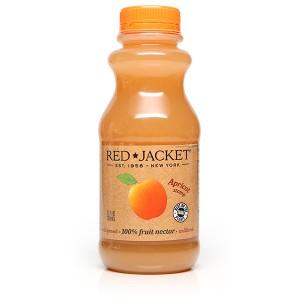 Enter Apricot juice! When I was asked if I would like to sample the Apricot Stomp from
Red Jacket
, I thought that it might be the answer to my plans for this cocktail. Made from a combination of apples and apricots without added sugar, it's a cold pressed, all natural juice that's packaged and shipped refrigerated; including to my door! The folks at Red Jacket sent me a cooler filled with juice, enough that I called on neighbors to help me try it. I had a lot of juice, they have kids and I wanted some feedback from big juice drinkers. Kids may say the funniest things but they are also brutally honest. The biggest surprise? I gave two friends a bottle of each apple juice and apricot juice and all of us assumed that the kids would readily inhale the apple juice but that apricot would be a tougher sell. Guess which one they loved the most? Let's just say it wasn't apple! Really I would have lost my home on that bet but have to admit I agree with the kiddos; I really savored the flavor of a stone fruit I love without the hassle of wondering if it would ripen well. The only unfortunate thing is that local distribution is not widespread, centered more in the middle of the country but if you want a real treat, order some online and find out for yourself!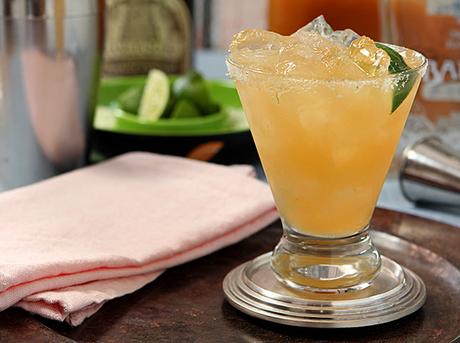 I did not add additional simple syrup to this cocktail; I always rim my margaritas with a blend of salt and sugar; that hint of sugar was just the perfect addition of sweetness for my tastes but it might be a good idea to have some made if your tastes like a sweeter margarita. I had a friend drop by as I was finishing up photos and yes, we decided that 3:30pm was most decidedly margarita time; she agreed to taste my latest and she thought them perfect. Her empty glass was the best testimony. Cheers!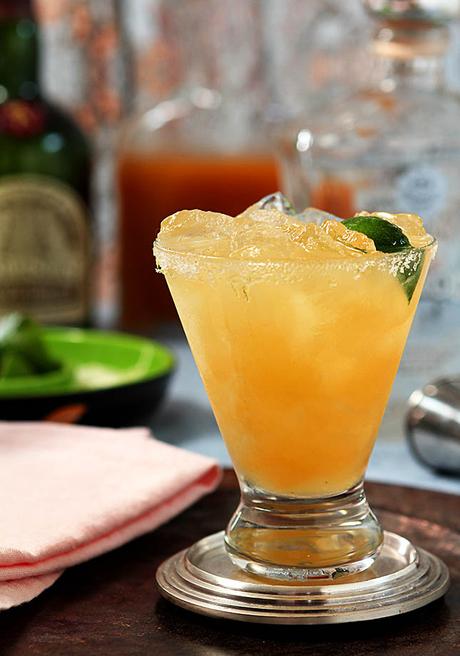 2 ounces tequila
1 ounce orange liqueur
½ ounce fresh lime juice
1 ounce Apricot juice (I used Red Jacket's Apricot Stomp)
Lime wedges for garnish.
Rub the edge of your glass with a lime and dip the moistened rim into a combination of salt, sugar and zest (see Notes). Fill the glass with ice.
Add the tequila, orange liqueur, lime juice and apricot juice to a cocktail shaker.
Fill the shaker with ice; cover and shake well until the container is frosted and cold. Pour the mixture into the prepared glass; garnish with a lime wedge.