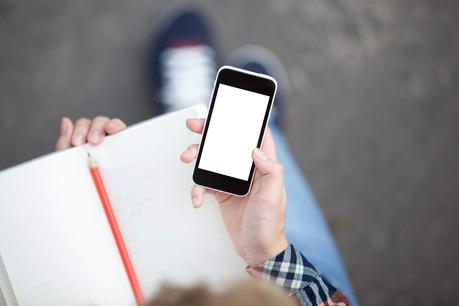 Completing education is one of the most significant tasks in life. In the past, it was somewhat more comfortable as the size of the courses were small and there was less homework to do. Nowadays the life of students is so hard starting from schools and getting huge homework consisting of assignments, projects and much more. We can pretty clearly say that they can't handle more. Most of the harsh schedule is due to technological advancement, but it has also given us a way to ease the over the top time table. Technology has introduced different apps that can contribute to you to improve your academic performance. Don't worry you won't have to search all around the internet to find these useful apps. We have gathered a list of apps that can help you improve your academic performance. If you want to learn dissertation writing, then read our previous article about Dissertation Methodology.
Flashcards+ by Chegg
Chegg is one of the renowned sources when we talk about buying and renting textbooks. Now they also released a flashcard app to help you stay systematized and learn for the exams. The primary feature of this app to create custom decks and flashcards which makes it different from other competitors. Whatever the topic you're studying for you can find flashcard related to. Even if you don't, you can just make your own flashcard deck on your phone. You can share this deck with people too. Currently, this app is only offered on the Apple Store. You can either download the free version or the paid version to create your own flashcard decks.
Microsoft To-DoIf you're a person who is an organizing freak and can only work in an organized manner, then this app is for you. Just input all the essential tasks of the week in the app and it will show the tasks depending upon the importance. It will show you your single days and also giving you a smart recommendation. The app will notify you when a task is about to or is overdue. It's the best app to stay organized and keep the workload to the minimum. You can download the apps for free on Apple Store, Google Play or Microsoft Store.
EverNoteEverNote is another excellent app for organization your student life. This one app is for many things as it can make to-do lists, writes notes, attach pictures, save PDFs and can even save links of the websites. The best thing about this app is that you can sync all the information to all the devices connected to the same account. You will never have to worry about losing your data as it creates a backup on the cloud too. It also has a sharing feature which allows you to share information between different people for group projects and presentations. You can download this app for free on Apple Store, Google Play store Or Microsoft. You can also open their website version to use EverNote. Famous browsers like Google Chrome, Mozilla Firefox, Safari and Opera fully Support the website edition. You need to get a $2 per month subscription for the cloud backup feature and some small features.


Docs To Go

Docs to go is like the Microsoft Office for the phones. With Docs To Go, you can save, see and edit word documents, excel spreadsheets, PowerPoint presentations, and PDF files in one app. This app is beneficial especially when you are in a hurry and can't access a computer. It can offer almost all the features of editing a document. You can currently download the app for free on the Apple Store or Google Play Store.


Kingsoft Office

Kingsoft Office is the alternate to Docs to go for people who want to edit the files on the PC too. Kingsoft is available on Mac Os, Windows, Android, and IOS. If sync the documents to the account so can view data on any device having the same account. Kingsoft is also free, but you will see certain ads to pay for the cloud service. You can also pay $5 to stop the ads.


My Homework Student Planner

This app is a must-have for anyone who forgets to remember all the homework due to the harsh schedule. It color-codes the different classes and tells you the due dates of the project and assignments. It can sync with your mobile calendar to show tasks except for school as well. The UI is user-friendly and the students like it. Many users of the apps say this app is a must-have and has made their life more comfortable. You can download this app for free from the Apple Store or Google Play Store.


Class Timetable

The class timetable is the alternate for myHomework Student Planner. This app aids you to keep the trail of your homework and tasks of the upcoming week. It is also color codes subject-wise like myHomework Student Planner. The great thing about this app that you can make a month-long schedule as well. homework Student Planner can only go up to 2 weeks. This apps is perfect for forecasting your home schedule, group project, and exams. Download it for free from the Apple Store or Google Play Store.


Google Drive

This one should be on your phone all the time. Google Drive is one of the most useful systems you will ever use. You can store and backup all of your documents, presentations, and comments and you can make changes to them in one single app. How cool is that right. You can also share this information with other people involved in the project. You won't be needed to worry about saving the file after 5 minutes or so. Google Drive will automatically save files. We suggest you download this app as soon as possible. This app is free to download and use from the Apple store and Google play. You will need to buy a $5 subscription when you fill your first free 15 GB of space.


YouTube 

You might be thinking about how YouTube will help you increase your academic performance? You can download the YouTube student app which only shows videos related to education. YouTube science is free to download and use, but some content by YouTube will require you to buy a subscription. With video lectures of educational material, it will be easier to understand the topics.


SkillShare 

 If you are a student that wants yourself to improve your skills then SkillShare is for you. SkillShare has tons of courses from which you can choose. They have hired professional teachers to teach to you live. The videos provided specialized for online learning. Then will also give you a softcopy certificate when you complete their test. Their test will check your status of course and help you improve it. SkillShare is available on Apple Store and Google Play Store but requires an in-app subscription to learn most of the classes.
These are all the apps that can contribute to improving your academic performance. If you want any help related dissertation, then Dissertation Methodology Writing Service UK will give the best help at affordable prices. Remember to study and keep your grades up as it will determine your future.