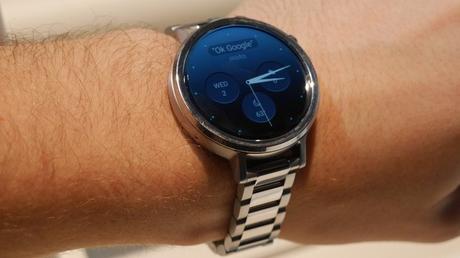 The smartwatch sector exploded in 2014, even if the biggest absent was Apple. Motorola was already making waves with its first Moto 360 handset, while Apple was still working on its Apple Watch smartwatch, which was finally unveiled at the end of April 2015. Meanwhile, Motorola has released another Moto 360 which runs on Android Wear (based on Android 5.1.1) and it's compatible even with iPhones. Here's a comparison between the Apple Watch and Moto 360 2015.
Designs
The Moto 360 was included in the Moto Maker customization program, so you can choose any design you like from the website. The standard model comes with a stainless steel case which is available in colors such as rose gold, black or silver. The watch is compatible with any watch band and on the side is located a button which sends the device to sleep. There aren't many ways to interact with the Moto 360 and this is a big disadvantage.
The Apple Watch has a more premium look, being available in three variants of designs. The Apple Watch model has a polished space black stainless steel body; the Apple Watch Sport model comes with a body that's made of space gray or silver anodized aluminum; the Apple Watch Edition is the flagship version with a 18-karat rose or yellow gold body.
Displays
The Moto 360 has a rounded display which is available in two variants of sizes. The smaller one has a diameter of 42mm with a resolution of 360 x 325 pixels, while the larger display measures 64mm and supports 360 x 330 pixels. The reason why there are two variants of screen sizes is because the company wanted to please both women and men customers.
It's the same case with Apple's watch, which has a version with a 38mm screen which supports a resolution of 272 x 340 pixels, while the larger screen measures 42mm and supports 312 x 390 pixels. The screen uses retina technology and features a layer of sapphire on top of it, so it's very resistant to scratches.
Batteries
The Moto 360 supports wireless Qi charging, but the smaller model houses a 300 mAh battery, while the larger variant comes with a bigger 400mAh unit. Either way, depending on how much you're using the smartwatch, it can last between one day and a half and two days.
The Apple Watch has a small battery of only 205mAh for the 38mm version and it is charged via a MagSafe connector and usually, you'll squeeze 18 hours of runtime from this model, depending on what you're doing on it.
Interface, Sensors and Features
The Apple Watch runs on Watch OS, which is based on iOS, but it has a home screen that contains lots of circles representing applications. When tapping on a cluster, you will zoon in, and to open an application you will tap on the app icon. The watch will allow you to interact with it using Siri and Digital Crown, and the list of sensors contains an accelerometer, a gyroscope, a barometer and a heart rate processor. The Apple Watch supports also NFC, Bluetooth 4.0 and Wi-Fi 802.11b/g.
The Moto 360 runs on Android Wear and it's compatible with a bunch of Android smartphones, as well as iPhones. You won't see a home screen, while the app launcher is hidden in Settings and the only way to interact with the watch is via Google Now, by saying ok Google and giving the voice command. The Moto 360 has an optical heart rate monitor, a pedometer and an ambient light sensor. It doesn't support NFC, but it comes with Bluetooth 4.0.