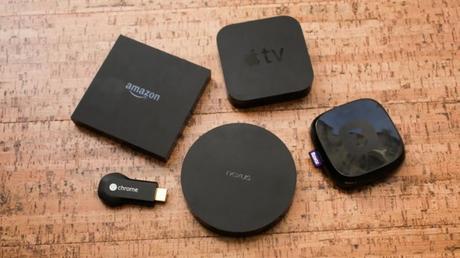 If you're in the market for a TV streamer and you can't decide between the Apple TV, Amazon Fire TV Stick or Chromecast, you need to keep on reading to find out how to single one out. It's not easy choosing one or the other, which is why we've decided to stack them up against one another and see which TV streamer has it all.
The setting up process
Even if the brand new Apple TV received a processor expansion, setting up this streamer is no different from the previous one. The latter TV streamer is a hefty product, so make sure you have room for it. Once it is linked to a HDMI port, you just have to choose the language and pick the Wi-Fi network. As for the Fire TV Stick and Chromecast, these two have to be simply plugged into the HDMI port of the TV and of course they will require a source of power.
The Chromecast dongle also has a HDMI cable that can easily be bent and because of its flexibility, you can easily fit the streamer even if the ports are jammed. The Fire TV Stick, on the other hand is not that flexible, but it does have an HDM extension cable which is great for enhancing the Wi-Fi signal.
Streaming applications, connectivity &costs
The Chromecast includes various apps such as iPlayer, YouTube, Netflix, Now TV, BBC and BT Sport. Users also have access to Google Play Store, thus there is plenty of content to choose from.
As for the Apple TV, this one works solo, as it doesn't need another device to function. Just like the Chromecast, Apple TV offers access to Now TV platform, Netflix, Red Bull TV and way more. You can also rent or buy whichever content you desire, as the latter streamer also comes with the iTunes service. Users also have Siri, so voice commands can be enabled.
And as for Amazon, this one struggles to make its own services stand out. Thus, Amazon Prime offers limitless streaming of movies and TV directly from the Prime library. And when installing apps, Netflix and BBC iPlayer are within reach.
Basically, the major difference here is how the overall multimedia content is offered.
As for the connectivity issue, the Chromecast 2 supports 802.11ac and dual band Wi-Fi. According to Google, an improved Fast Play option will roll out by the end of 2015 as it promises to make the device run a lot faster.
The Fire TV Stick has dual-band, dual-antenna 802.11n Wi-Fi while the Apple TV also has the new upgraded 801.11ac with MIMO support. But Apple TV also has the 10/100 Ethernet port, so you can opt for a cabled connection as well.
Price wise, the 32GB variant of Apple TV retails for £129 while for the 64GB variant you will end up paying £169. The Chromecast is priced at £30 while Amazon's Fire TV Stick retails for £35.