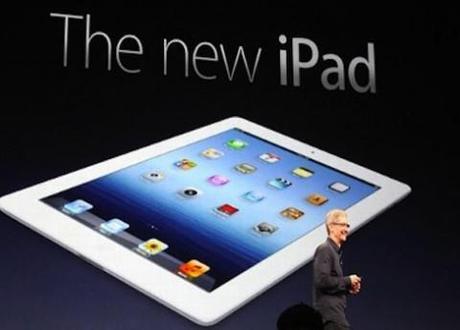 Tim Cook launches the new iPad. Photocredit: http://www.psfk.com/2012/03/apples-ipad-3-launch-tv.html
Some wanted tech giant Apple,
the world's most valuable company
, to invest their near $100 billion of surplus cash in acquiring Facebook. Other suggested opening the
Cupertino Mountain (of cash) Ski and Snowboard Adventure Park
or, err, 
buying Greece
.
Instead, Apple announced on Monday that it would be spending $45 billion over the next three years on paying out dividends and buying back shares. Shareholders could expect a quarterly dividend of $2.65 a share starting in July (their first payout since 1995) and Apple will also be buying back $10 billion's worth of shares. The Wall Street Journal  readers predicted this is what Apple would do – 42 percent expected a dividend issue and 15.7 percent forecast the firm would buy back stock. Indeed, analysts and investment specialists had been "crying for a dividend," Matthew Panzarino of The Next Web blog told The Telegraph and this is the normal way for a company to behave, said Adam Lashinsky on on the CNN Money blog.
Tim Cook making his mark on a post-Jobs Apple? Richard Blackden in The Telegraph sees the decision as "the latest evidence of Tim Cook stamping his mark" on Apple. Steve Jobs, "haunted by Apple's brush with insolvency in 1997…unnecessarily kept piles of cash sitting around … because … he was terrified of running out of money," said Adam Lashinsky of CNN.
These moves will attract new investors. Bill Choi, a managing director of financial services firm Janney Montgomery Scott, told Nick Wingfield of the New York Times that we could expect "record volumes of trading in the stock in the coming days as funds that cannot own a stock unless it pays a dividend start buying."
Most of Apple's cash held abroad. The reason for the sizeable gap between the amount Apple has announced it will spend and the #98million discussed on Twitter is that roughly 66 percent of Apple's cash is held by its foreign subsidiaries, reported Christine Hauser in the New York Times. If Apple tried to bring that money back to the United States, it would incur up to 30 percent repatriation taxes. They currently hold about $34 billion in cash in the United States.
A bottomless pile of cash? "These decisions will not close any doors for us," said Cook on Monday. Even spending $45 billion over three years will do little to reduce "the amount of cash in the company's coffers" said Nick Wingfield in the New York Times, because Apple "continues to generate so much money from its business." He spoke to Gene Munster, an analyst at Piper Jaffray, who estimated that despite the latest announcement, Apple's total cash balance at the end of fiscal year 2013 could be around $180 billion.
Intense competition? Colin Gillis, an analyst at BGC Partners in New York told Dominic Rushe of the Guardian that Apple now faces a period of intense competition as Amazon, Samsung and others looked to take market share in tablets: "The competition isn't going to roll over, and they'll compete on price."
What else could Apple have done with the dough:
Acquire another company. Pundits have suggested that Apple might have chosen to buy another technology company. Matthew Panzarino of The Next Web blog told The Telegraph in advance of Monday's announcement that "the most likely option is an acquisition or large investment in technology of some sort. Perhaps Apple will acquire Twitter, the social network that it has so tightly integrated into its iOS and OS X operating systems." David Benoit, in a Wall Street Journal blog went on a spending spree on Tim Cook's behalf: his shopping list included Netflix, an Apple Bank and the Los Angeles Dodgers baseball franchise.
Something philanthropic. Many of the Tweets on the subject ran along the lines of this one: "It would have also been quite nice had Apple announced it was donating some of its monies to philanthropic causes. #JustSaying" Motley Fool adviser Jeff Fischer told the Washington Post that Apple should subsidise technology to poor schools. Stan Schroeder on Mashable also mooted a philanthropic donation. 
Bought Foxconn. Charlie White had some comic suggestions on Mashable, but did raise a more serious point by alluding to the Foxconn workers "who helped you make it." Tom Post of Forbes also thought it would be worthwhile for Apple to invest in one of its Asian suppliers, " most notably, or notoriously, Foxconn Technology Group, the key Taiwanese electronics maker whose labor practices in China have rightly drawn so much fire lately." At a current cost of $4.2 billion, 10% of Foxconn would be a good investment for Apple, argued Post. Not only might it "insure higher standards when it comes to products and worker rights," but it could also "buy Tim Cook a lot of good will among Apple critics — and fans."